Around the Minors: The week of June 20-26
Sights and sounds from action across Minor League Baseball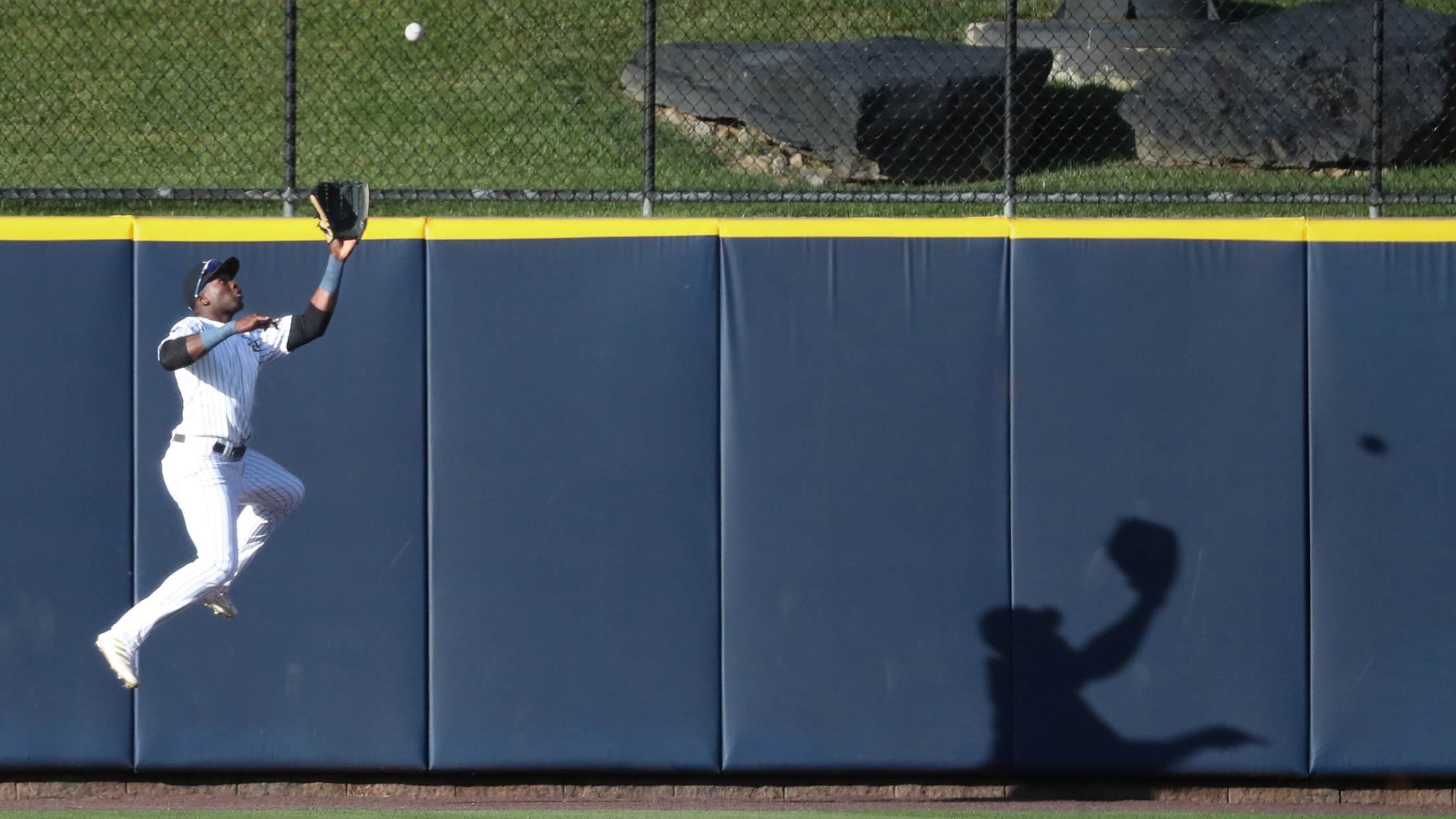 Estevan Florial (and his shadow) go airborne to make a play for Triple-A Scranton/Wilkes-Barre. (Timothy R. Dougherty/Double Eagle Photography)
June 26
Doubling down on jacks
Oswald Peraza did something on Sunday that he hadn't done in his first 62 games with the RailRiders -- find the seats twice.
The second-ranked Yankees prospect mashed a pair of home runs, and added a double, to power Triple-A Scranton/Wilkes-Barre's decisive 8-2 victory over Toledo at Fifth Third Field.
The performance was Peraza's fifth with at least three hits this season and the first time all of his hits went for extra bases. The 22-year-old has clubbed nine dingers this season in 55 games with the RailRiders. Full story »
No. 2 @Yankees prospect Oswald Peraza flexed his first multi-dinger game with the @swbrailriders: https://t.co/q3HMEka7rO pic.twitter.com/5Fd9OpknLO

— MLB Pipeline (@MLBPipeline) June 27, 2022
Punching a postseason ticket in style
Anthony Volpe was down to his last strike in the last inning on the last day of the first half of the season. With one swing, the top Yankees prospect extended his team's season.
Volpe belted a walk-off home run in the bottom of the 10th to lift Double-A Somerset to a 6-5 win over visiting Hartford, delivering the Eastern League Northeast Division first-half title to the Patriots in a winner-take-all game between the division's top two teams.
"I was just being aggressive," Volpe told the media after his game-winning shot. "I was pretty confident going up. I knew the guy had really good stuff, but I just wanted to be aggressive." Full story »
Sporting his Sunday best
Kyle Harrison has had the strikeouts pouring in during his second professional season. MLB Pipeline's No. 41 overall prospect tied his career high with 11 punchouts in Richmond's 7-2 win over Portland.
The third-round (85th overall) Draft pick in 2020 allowed two runs on a pair of hits and a walk over seven strong frames.
The 20-year-old has fanned five or more batters through 13 starts this season. His ERA may sit at 4.02 since being called up to Double-A on May 24, but his opponents' batting average tells a different story. In six starts with the Flying Squirrels, he's held opposing batters to a .191 average over 60 1/3 innings. He already ranks 40th in the Eastern League with 50 strikeouts since joining the team.
King of the hill
It was a career game for Zach King. The No. 29 Marlins prospect has been fanning hitters at an absurd rate during the month of June, a total of 17 strikeouts in his last three starts. The 24-year-old topped those performances with a career-high 11 strikeouts while allowing no runs on three hits across seven innings in High-A Beliot's 11-0 win over Lansing.
King was dealing at the end of his outing, retiring 15 of the final 16 batters he faced. His lone blemishes were three singles scattered across the first and second inning.
The Vanderbilt alum lowered his ERA to 2.77 and brought his strikeout tally to 87 in the 65 innings pitched this season.
Posting a triple-double(s)
Pitchers were seeing double when Michael Masseywas at the plate. The Royals' No. 19 prospect has been hot as of late, slashing .348/.392/.609 in the month of June. Massey had his best performance since his callup, going 4-for-5 with three doubles and five RBIs in Triple-A Omaha's 17-14 win over Columbus.
The 24-year-old started his productive night early, hitting an RBI double to right field in the first inning. Massey was not finished there, producing RBI doubles in back-to-back innings in the fifth and sixth inning.
The 2019 fourth-round pick's impressive stretch brought his slashing line to .312/.365/.515 on the season.
June 25
Small ball comes up big
It's been a good weekend atop the White Sox Top 30 Prospects list.
A day after top prospect Colson Montgomery starred in his High-A debut, the White Sox No. 2 prospect dazzled for Winston-Salem as the Dash beat Hudson Valley, 6-3. Leading the way was center fielder Oscar Colas, whose 4-for-5 showing included a double and an RBI single in the fifth.
It marked the first career four-hit game for Colas, a Cuban defector the White Sox signed for $2.7 million in January. The 23-year-old is hitting .307 with seven homers, 35 RBIs and an .855 OPS in his first 49 games stateside.
Stealing the limelight
Max Ferguson has been a catcher's nightmare this season.
The Padres' No. 15 prospect stole his 50th base this season, which made him the first player to hit that milestone in the Minor and Major Leagues. Ferguson did so while going 1-for-4 with three runs scored and two RBIs in Single-A Lake Elsinore's 15-8 win over Rancho Cucamonga.
The 22-year-old did not get the chance to show his wheels after reaching base on a error in the first inning. He was walked three innings later and got his chance, stealing second base during the next hitter's at-bat.
The 2021 fifth-round pick not only reached a milestone, he brought his run tally to 62 and RBIs tally to 38 on the season.
More double trouble in Binghamton
Francisco Álvarez and Ronny Mauricio made sure they put the exclamation point on an already excellent month of June.
Álvarez, the Mets' No. 1 prospect, and Mauricio, New York's No. 3, both homered in Double-A Binghamton's 11-0 win over Reading. For Álvarez, it was his ninth homer of the month on a three-hit night, while Mauricio left the yard for the second consecutive night en route to his second four-RBi game of the season.
Álvarez, the 20-year-old catching phenom, continues to dominate opposing pitching. He's slashing .284/.370/.573 through 61 games, giving him a .943 OPS that ranks fourth in the Eastern League.
Mauricio added an RBI single in the second inning and a sacrifice fly in the fourth. The 21-year-old shortstop has seven home runs in June, topping his total from April and May combined (six).
Finding the on switch
Joe Gray Jr. showcased his power in a big way.
The Brewers' No. 13 prospect has not been having the month he was hoping for, slashing .129/.222/.186 in the month of June. Gray Jr. broke out, going 3-for-4 with two homers and three RBIs in High-A Wisconsin's 5-0 win over Quad Cities.
The 22-year-old exhibited his power early, crushing a long ball to left-center field in his second at-bat. He was not finished there, blasting a solo shot to center field in his next at-bat.
The 2018 second-round pick had his first multihomer game of the season, which brought his HR tally to nine on the season.
He did the Mayer mash
Marcelo Mayer logged another multi-hit night for Single-A Salem.
The No. 1 Red Sox prospect collected three hits in the 8-3 victory over Fredericksburg.
Mayer started off with a single to right field and stole his ninth base of the year in the first inning. In the sixth, the 19-year-old belted his fifth long ball to right. Mayer's other knock came on an opposite-field grounder to left in the 8th.
MLB's No. 10 prospect has posted a .276/.356/.876 line on the year.
June 24
Thar Shea blows
Shea Langeliers once again clobbered a tape-measure shot for Triple-A Las Vegas in the Aviators' 12-4 victory over Albuquerque at Las Vegas Ballpark.
The top A's prospect's latest tater traveled a projected 498 feet for a solo shot in the seventh. The deep fly was part of a three-hit performance for Langeliers, who finished a triple shy of a cycle.
The 24-year-old is sporting a .277/.371/.509 slash line with 13 dingers, 43 runs scored and 34 RBIs in 60 games with Las Vegas this season.
Birds of a feather flock together
If this really is the Orioles' future, then it's going to hit.
Several of the top prospects in the Orioles' top-ranked farm system powered Triple-A Norfolk's 10-7 win over Lehigh Valley on Friday night at Coca-Cola Park. Five Tides recorded multihit efforts as Norfolk erupted for a season-high 21 hits, its most in a game since April 19, 2016, at Charlotte.
No. 6 prospect Jordan Westburg led the way with a career-high five hits, No. 8 outfielder Kyle Stowers had four hits, including his 13th homer, and No. 3 infielder Gunnar Henderson collected three hits and scored twice out of the leadoff spot, going deep in the ninth. Those three of the Orioles' top eight prospects are thriving at the top of Norfolk's lineup. Full story »
A Brown out in Sugar Land
Astros fans paying close attention to the organization's Triple-A affiliate got a glimpse at a pitcher making his way back to the Majors and one on his way up.
Following Jake Odorizzi's rehab outing, Hunter Brown essentially worked a start of his own, striking out five over five scoreless innings in Sugar Land's 8-4 win over Tacoma.
Baseball's No. 92 overall prospect lowered his ERA to 2.66, an impressive mark considering the five runs in four innings he allowed in his previous start. But altogether, Brown's season has been superb; in addition to a .193 opponent's batting average, he's striking out 12.5 batters per nine innings.
Soaring with the birds
It was the home run Heston Kjerstad and the Orioles waited two years for.
Kjerstad showed off the power stroke that made him the No. 2 overall pick in the 2020 Draft on Friday, cranking his first career home run in his 10th game at Single-A Delmarva. The Orioles' No. 9 prospect also walked and reached three times in the Shorebirds' 5-4 loss to Lynchburg, extending his seven-game hit streak in the process.
It was the latest encouraging effort from Kjerstad, who didn't make his professional debut until earlier this month but has done nothing but rake since finally stepping on the field. Kjerstad is hitting .405 with eight RBIs and five walks in his first 42 plate appearances at Delmarva after his big night Friday. He was sidelined for alternate site training during his draft summer and all of 2021 recovering from myocarditis, a viral heart condition.
"I never thought my first professional homer would be in 2022, but everybody has a little different journey," Kjerstad said. Full story »
Swiney goes fourth
The fans at PK Park got to experience one of baseball's rarest feats – the fabled four-strikeout inning. High-A Eugene starter Nick Swiney completed a career-best outing with four punchouts in the sixth as the Emeralds upended Tri-City, 5-3. The left-hander yielded an unearned run on two hits and a pair of walks while whiffing a career-high 12. He exited after tossing 56 of his 88 pitches for strikes.
In the sixth, the 17th-ranked Giants prospect whiffed Jordyn Adams. After D'Shawn Knowles successfully laid down a bunt for a base hit, things got interesting. Swiney got Kyren Paris swinging for strike three on a breaking ball in the dirt that catcher Robert Emery had trouble handling. Paris was never tagged and reached base on an errant throw from the backstop. From there, Swiney worked back from a 3-0 count on Gabe Matthews for another swinging punchout before the NC State product sat down Mitch Nay with a breaking ball in the dirt for his fourth strikeout of the frame.
Swiney has a 3.04 ERA, an 0.99 WHIP and a .169 average against with 61 strikeouts over 47 1/3 innings this season with the Emeralds.
Pitching in
Taj Bradley continues to impress in his first taste of Double-A..
The No. 3 Rays prospect prospect hurled six scoreless innings in Montgomery's 2-1 victory over visiting Mississippi, throwing 70 pitches (45 strikes) and tallying four strikeouts.
The 21-year-old continued his dominant June, during which he's fanned 29 in 24 1/3 innings while posting a 1.11 ERA.
Overall, Bradely is 2-1 with a 1.82 ERA, an 0.91 WHIP and a 71-to-14 strikeout-to-walk ratio in 59 1/3 innings. The 2018 Draft pick is holding opponents to a .189 average and has surrendered one run or fewer in 11 of his 13 starts.
A Dash of power
Colson Montgomery proved the callup was the right choice.
The White Sox No. 1 prospect was slashing .324/.424/.476 in Single-A, prompting his call up to High-A. Montgomery made a good impression in his debut, going 2-for-4 with a homer in High-A Winston-Salem's 2-1 win over Hudson Valley.
The 20-year-old displayed his power, crushing a ball to right field in his second at-bat. He added to his impressive debut two innings later with single.
The 2021 first-round Draft pick brought has gone deep five times this season, a marked improvement after going without a home run in his first season in the Minor Leagues last year.
Teng takes flight for Richmond
Kai-Wei Teng hasn't found the consistency expected of him through the first seven weeks of the season. On Friday, he flirted with history.
The 30th-ranked Giants prospect took a no-hitter into the seventh inning before a surrendering a leadoff single to Tyreque Reed. However, the lone hit he allowed did little to mar an otherwise brilliant outing in Double-A Richmond's 6-1 win over visiting Portland. Although the 23-year-old yielded an unearned run, after issuing all three walks in the fifth which were followed by an error, he struck out a season-high 11, including four of the last five batters.
After an uneven start to 2022, Teng is 3-0 with a 3.20 ERA in five starts this month.
June 23
Crazy Carolina clinching
Going into the night's action, Carolina, Salem, Lynchburg and Fredericksburg had a chance to snare the Carolina League North Division crown. There were nine scenarios that took into account various head-to-head tiebreakers. But ultimately, the Hillcats took matters into their own hands. The Guardians' High-A affiliate needed to sweep a doubleheader against Delmarva, and that's just what it did.
Game 1 starter Will Dion fanned eight over six frames en route to a 3-2 victory, while Game 2 starter Jack Leftwich went all seven innings, striking out nine and retiring the final 11 batters he faced in a 5-1 win.
On the season, the Guardians affiliate's staff posted a 3.84 ERA, good for fourth in the league, a 1.28 WHIP (third-best) while striking out 714 (second). Lynchburg's offense posted a .351 OBP (third) while swatting 104 doubles (tied for fourth) and drawing 320 walks (third).
With a doubleheader sweep, the Hillcats punch their ticket to the playoffs!

The #Guardians prospects snag the Carolina League North first-half title. pic.twitter.com/2DQWpfyLrH

— Minor League Baseball (@MiLB) June 24, 2022
Summertime in Paris
Kyren Paris is starting to heat up for High-A Tri-City.
The No. 3 Angels prospect belted his second home run in a week and plated three runs to lead the Dust Devils to a 6-5 victory over Eugene. The 20-year old lofted an opposite-field drive to left in the third inning and added another RBI with a two-out single.
Paris has 10 RBIs in June, upping his season total to 19.
The victory was also aided by the club's No. 29 prospect Robinson Pina, who tallied 13 strikeouts over seven innings.
The ultimate do-over
Logan Allen continues to dominate.
After reaching a career-high 11 strikeouts in his previous start, the Guardians' No. 8 prospect matched that mark in Double-A Akron's 8-2 victory over Harrisburg. Allen threw 96 pitches, 68 strikes, and only allowed one run on a homer in the second inning.
The 23-year-old added on to his impressive month of June, totaling 39 strikeouts in 25 2/3 innings and posting a 1.75 ERA.
Allen lowered his season ERA to 3.33 and brought his season strikeout total to 104.
An imperfect ending
Brandon Pfaadt had everything working early as the righty took a perfect game into the seventh and finished with 12 strikeouts, but it came undone late as Double-A Amarillo lost to Corpus Christi, 5-4, in 10 innings.
The eighth-ranked D-backs prospect was perfect through 6 1/3 frames while matching a career best with 12 punchouts, but a solo shot from Luke Berryhill broke up the perfecto and the shutout. Pfaadt exited after allowing three runs on three hits and one walk over 7 2/3 innings.
The 23-year-old has amassed 96 punchouts over 72 1/2 frames this season.
In the swing of things
For the fourth time this season, Brett Baty collected three hits in a game.
New York's second-ranked prospect cranked a two-run homer and singled twice in Double-A Binghamton's 5-4 win over Reading. Baty collected base knocks to right field in his first two at-bats before blasting a go-ahead two-run dinger in the fifth to give the Rumble Ponies a 3-1 lead.
The lefty slugger has been hot as of late, slashing .325/.413/.575 with three homers, eight RBIs and five walks in his past 10 games. He's hit safely in 14 straight games to boost his season average to .282.
Bouncing back with ease
Nick Lodolo is looking more like his old self. After being transferred to the 60-day IL, the No. 1 Reds prospect dominated in his second rehab start for Triple-A Louisville.
The 24-year-old, who's recovering from a lower back strain, racked up five strikeouts while allowing two hits without a walk over four scoreless innings before departing the Bats' eventual 6-5 loss to the Iowa Cubs. Lodolo threw 58 pitches, 38 for strikes, and hit a batter.
The southpaw has tallied 11 strikeouts, giving up two runs on six hits and a walk over six frames in two starts for Louisville.
June 22
Gridiron scoring on the diamond
No, it isn't football season yet, but the final score between Single-A Rancho Cucamonga and Lake Elsinore resembled a gridiron matchup far more than a baseball game.
In the end, the Quakes scored three touchdowns and added a field goal in its 24-9 win. The teams combined for 33 runs, 33 hits -- 14 for extra bases -- six home runs and four errors.. Of the 21 position players that appeared in the contest, 19 collected at least one hit – including all 10 for the Quakes. Ten pitchers combined to throw 394 pitches and ironically, the only hurler not to allow a run was Storm backup catcher Juan Zabala, who entered the game at third base in the eighth before taking the mound to record the final two outs of the ninth.
Luis Rodriguez finished a triple shy of the cycle, drove in five runs and scored twice while Damon Keith paced the Quakes onslaught with four hits, four RBIs and four runs scored. Julio Carrion capped the Quakes' scoring with a grand slam in the ninth.
It was the most runs scored by Rancho Cucamonga since the franchise put up a 24-spot against Visalia almost a year ago to the day – June 20, 2021.
Reeling in the K's in Music City
Bouncing between the Major Leagues and Triple-A isn't an easy task, but Tucker Davidson is continuing to show that he has little left to prove in the International League.
The Braves' seventh-ranked prospect turned in a stellar outing for Gwinnett on Wednesday, striking out nine over 6 2/3 scoreless innings in the Stripers' 7-2 win over the Nashville Sounds.
"I definitely feel like my offspeed pitches were there, curveball and slider," Davidson said. "Felt like I had good command of the strike zone, and just kept my foot on the gas pedal all night." Full story »
Slaughter pens a grand finale for Tennessee
Two outs, two strikes and with the scored tied, 7-7, Jake Slaughter finally called game.
The Cubs prospect sent the second grand slam of his professional career deep into the night as Double-A Tennessee walked it off in 10 innings against visiting Chattanooga, 11-7.Slaughter's seven home run of the year put the exclamation point on a season-high five-RBI night. The 25-year-old had a run-scoring single earlier in the night.
Slaughter is batting a scorching .375/.438/.750 with seven homers and 20 RBIs in 16 games since being added to the Smokies roster on June 3.
Lucky 13 for BlueClaws' McGarry
Griff McGarry struck out a career-high 13 as the right-hander led the way for High-A Jersey Shore's 5-3 victory over Brooklyn at Maimonides Park.
The eighth-ranked Phillies prospect allowed one run on four hits and a pair of walks over 5 1/3 frames. He whiffed eight batters in a row in a spanning the third and fifth innings.
It was the second consecutive double-digit strikeout game for McGarry, who fanned 10 in six frames against Aberdeen on June 15. Through 11 starts with Jersey Shore, the 23-year-old has a 4.43 ERA, a 1.28 WHIP and 71 punchouts over 40 2/3 innings this season.
Akron visits the 7-11
What seemed to be a routine game between Double-A Harrisburg and Akron turned into anything but at Canal Park.
Leading the Senators, 6-0, entering the bottom of the seventh inning, the RubberDucks put together an inning they won't soon forget. George Valera opened the frame with single to right, opening the floodgates to a 33-minute, 11-run frame that featured seven hits, five walks, two wild pitches, two pitching changes and an error. Harrisburg's two hurlers -- Dakody Clemmer and Danny Dopico -- combined to toss 69 pitches in the inning.
Add it all up and Akron went from a six-run lead to a 17-0 edge, led by Valera, who tallied two hits in the inning, adding a two-run double to his club up by two touchdowns. Baseball's No. 40 overall prospect tallied three hits, reached base four times and scored four runs.
Akron won the game, 17-2.
June 21
Perfect in every way
David Hess has seen it all now.
In his first game back at Triple-A since a cancer diagnosis nine months ago, Tampa Bay right-hander Hess roared through a perfect inning with a strikeout, needing just nine pitches in a triumphant return.
"As cliché as it might sound, I just tried to tell myself, 'Take one breath at a time,'" Hess said after his Durham side fell to Jacksonville, 9-3. "I knew the emotions were going to be high. I knew what I was probably going to be feeling. I tried to just go in and make it as normal as possible. The first pitch -- getting the sign, coming set, just thinking about everything and then throwing -- everything kind of clicked back into place. I'd be lying if I said there wasn't any big emotions feelings because inside, I felt like I was going a million miles an hour. I was just trying to make it a normal outing and keep it as low-key as possible. I don't think there was necessarily anything low-key on the inside that I was feeling." Full story »
Hitting homers in bunches
Jeremiah Jackson has what's been described as "country power" and that was on display as he mashed a pair of home runs to power Double-A Rocket City's 9-2 victory over Birmingham at Regions Field.
The seventh-ranked Angels prospect opened the scoring with a two-run shot to left in the opening frame, and followed that up with a blast to center on a full-count offering in the sixth. It was his second multihomer game within the past week.
Jackson has six dingers in his past seven games and is batting .286/.345/.662 with 18 RBIs and 13 runs scored in 21 games this season.
He's got the power
Evan Carter was everywhere for High-A Hickory.
The ninth-ranked Rangers prospect tripled twice and belted a grand slam while driving in six runs in the Crawdads' 12-6 win over the Rome Braves. For context, the last Major Leaguer to post that stat line (two triples, a homer and at least six RBIs) was Ted Kluszewski in 1952.
After hitting three homers in a five-game span in mid-May, Carter hadn't left the yard in over a month before his slam. His three hits also tied a season high, which he last achieved on April 30.
How do you spell relief? B-e-l-l-o
Brayan Bello has been good since joining the Triple-A WooSox. This time, he was great.
The No. 4 Red Sox prospect struck out seven over seven scoreless innings in Worcester's 5-0 win over Charlotte. The outing lowered his ERA to 3.12 in seven games since his promotion.
Bello pitched in relief behind the rehabbing Josh Taylor and took Worcester through the eighth inning. Bello has now fanned at least seven in six out of his seven Triple-A appearances.
Scherzer is good to have you back
The road to recovery for Max Scherzer ran through Binghamton, N.Y., as the 37-year-old right hander made his first Minor League rehab start for the Double-A Rumble Ponies.
Scherzer, who was scheduled to throw around 60 to 70 pitches, got through 3 1/3 innings on 65 pitches, giving up three hits and two earned runs in the Ponies' 7-6 loss to the Reading Fightin Phils. He also struck out six and walked one in his outing.
"I went out there and accomplished what I thought I was going to do," Scherzer said after the game. "I was able to step on a few fastballs. I thought that was a good thing. I was able to throw all my pitches." Full story »
The week that was
San Antonio took time to show support for the community as the Double-A Missions stepped up for Robb Elementary School in Uvalde, Texas, by wearing replicas of the Uvalde High School baseball teams' jerseys and then auctioning them off to support the Robb School Memorial Fund. The Angels' Double-A affiliate Rocket City notched its first postseason berth as first-half clinchings got underway, Luke Berryhill painfully extended his on-base streak to 50 games, Jersey Shore's Matt Russell got to continue his own suspended start and lovers of the long ball rejoiced as taters continued to be mashed at an amazing rate (just ask Cody Morissette after his three-homer game). Review all the action from last week.