Smith looks back on first season with Red Sox
Minors' first Black female coach held versatile role for FCL club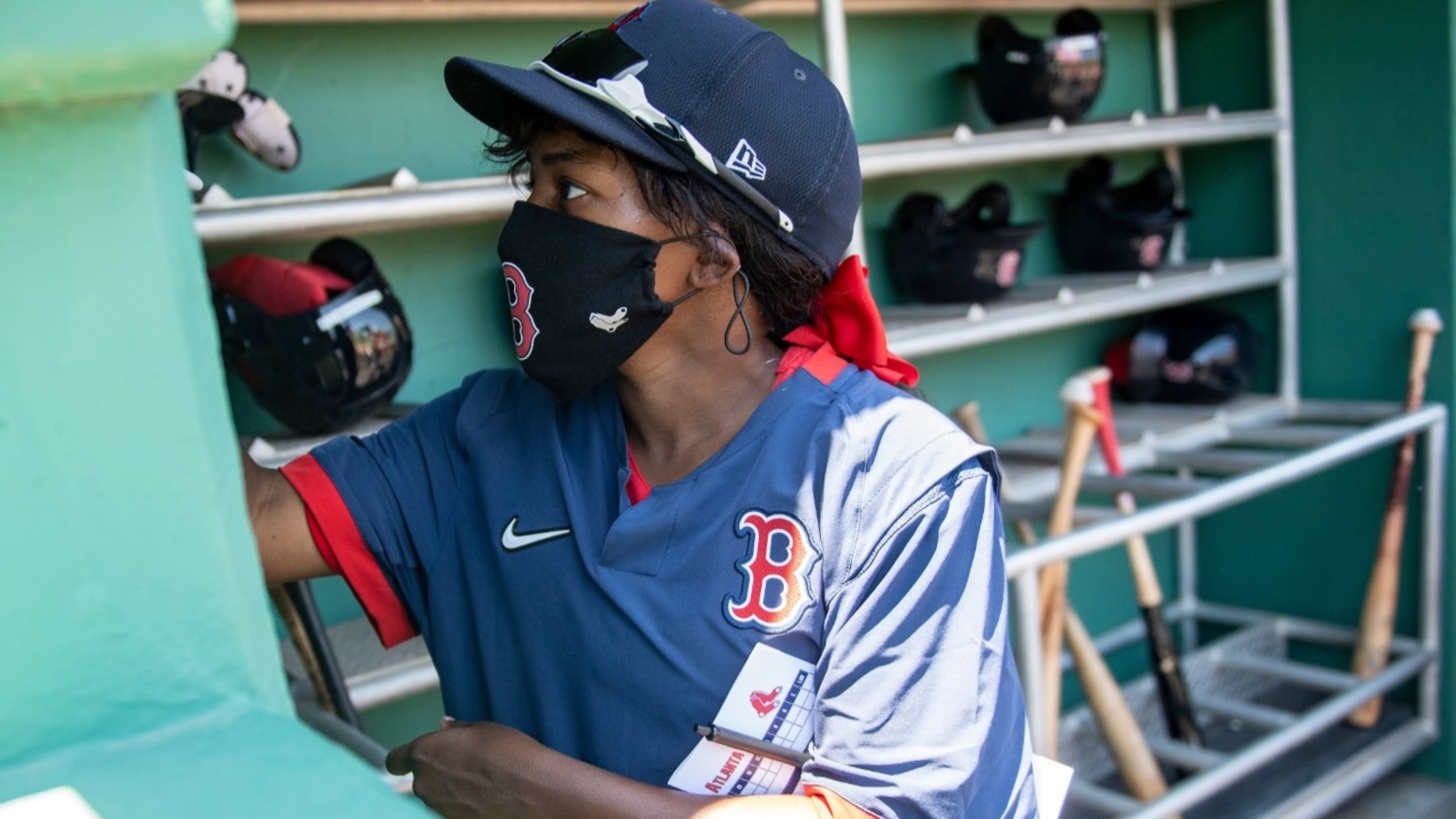 Bianca Smith coached first base for the Rookie-level team in 2021 and collaborated on lineups, among other responsibilities. (Billie Weiss/Boston Red Sox)
The end of Red Sox fantasy camp in Fort Myers was the beginning of another busy week for Bianca Smith. And she's had a lot of those over the past year. Smith, 30, became the first Black female uniformed coach in the Minor Leagues when she was hired by the
The end of Red Sox fantasy camp in Fort Myers was the beginning of another busy week for Bianca Smith. And she's had a lot of those over the past year.
Smith, 30, became the first Black female uniformed coach in the Minor Leagues when she was hired by the Red Sox last January to be a coach for their Rookie-level Florida Complex League team. Her hiring made waves across the country and the larger sports landscape as she instantly became one of the game's true trailblazers before her work with the Red Sox even began.
Her arrival at Spring Training in Fort Myers brought a new world to conquer. Like every new coach, it was up to both her and the club to figure out where her talents would best be distributed. There was some initial speculation that Smith's focus would be on the infield group, but ultimately she proved capable of greater responsibility.
Smith coached first base across the diamond from Jimmy Gonzalez, the club's manager, for every game as the team finished with the fifth-best record in the FCL at 37-20. She also ran point on practices with the outfielders and baserunning, worked with the hitters and collaborated on lineups, practice planning and game reports.
"I really didn't have a lot of expectations going in yet because I had no idea what I was going to be doing," Smith said in a phone interview this week. "[It] worked out pretty well because I ended up doing way more than I think either I or the team even expected, which was great."
Before the team started playing games and the Fort Myers group transitioned into extended Spring Training, Smith was part of a group of four coaches who were new to the Red Sox. Each of these coaches roamed to different practices, positions and areas of focus to get better acquainted with the way the organization works and understand the players and coaches on a more personal level. There would be days when two coaches would work with the infield group while another worked with the catchers or the outfielders, then they'd go with a different unit the following practice.
"Instructs" are done and so is my first season with the @RedSox. This was an awesome year and I already can't wait for 2022!! #FCLRedSox #RedSox #dirtywater #2021season #thatsawrap pic.twitter.com/7fAFvnuK4u

— Bianca Smith ⚾️ (@biancaesmith12) October 23, 2021
It was during this period that Smith realized her desired defensive focus would be on the outfield group. The rest of her plate slowly filled up throughout the season.
"As far as everything else, I kind of just noticed that we might have been lacking in an area or I would just bring up, 'Hey, I saw this during a game. … What do you think about working on this in practice?' And [Gonzalez] would say, 'Yeah, go ahead. You run it,'" Smith recalled. "Eventually, it kind of just became expected that I would pick up on those things if we needed to work on something like baserunning-wise, and kind of the same thing as everything else. It just started to fit with the rest of the coaching staff and we just kind of fell into our jobs."
Smith said she reached out to some old friends and contacts from her past as a college coach for some guidance. But she really credited Gonzalez and the rest of the coaching staff for helping her coaching education. She made a point to always be on the same page with Gonzalez since he's not only running the club, but he's also her partner on the field as the third base coach. Smith wanted to make sure she knew what was expected of her, the message to the players and what work should be done. From there, her own research and on-the-spot learning shaped the way she did her job.
"Each first base coach kind of has their own way of doing things -- even something as simple as where they stand," said Smith, who has 12 different baseball-specific certifications from organizations like MLB scout school, USA Baseball, Driveline, Rapsodo and the National Exercise & Sports Trainers Association. "I found reasons to stand in certain spots in certain situations. And even our manager would help me out with those situations, too. Just like what to look for … then just kind of figuring out what fit for me based on what I was trying to help our baserunners with at the time."
When coaching college ball, Smith at least got to see a player through to the end of the season. But, like every first-time Minor League coach, Smith also got her first taste of the bittersweet experience of seeing her successes get promoted to the next level.
The reason why I coach. Love working with these guys!! #Outfield #Lastlineofdefense #FCL #FCLRedSox #RedSox pic.twitter.com/p8c5mlf0yd

— Bianca Smith ⚾️ (@biancaesmith12) July 1, 2021
She said it was difficult to pick just one player whose promotion was particularly exciting, but eventually Brainer Bonaci, the 19-year-old shortstop from Venezuela and No. 18 Red Sox prospect, came to mind.
"That's our goal. And we tell them that," Smith said with a laugh. "Like, our goal is to kick them out of the complex, like we don't want them there."
That reality somewhat points to the idea that player development often takes precedence over individual team success in the Minors -- which isn't something that's exclusive to any specific team or organization.
Smith said she was surrounded by kindred spirits -- both players and coaches -- who shared the mentality that winning always came first when there were games to play. But the staff also wanted to take players out of their comfort zone and push their limits. They wanted players to know they were in Rookie ball to make mistakes so the coaches can help them learn from those in practice. Coaches kept an eye out for something in a game that would become a specific point of focus in the next day's practice -- which, for Smith, often pertained to a baserunning or outfield drill.
The other aspect of player development, which commonly falls under the responsibilities of Minor League coaches at the lower levels, is teaching future superstars how to be professionals and provide an orientation on club philosophies -- not unlike the new coaches' introductory work.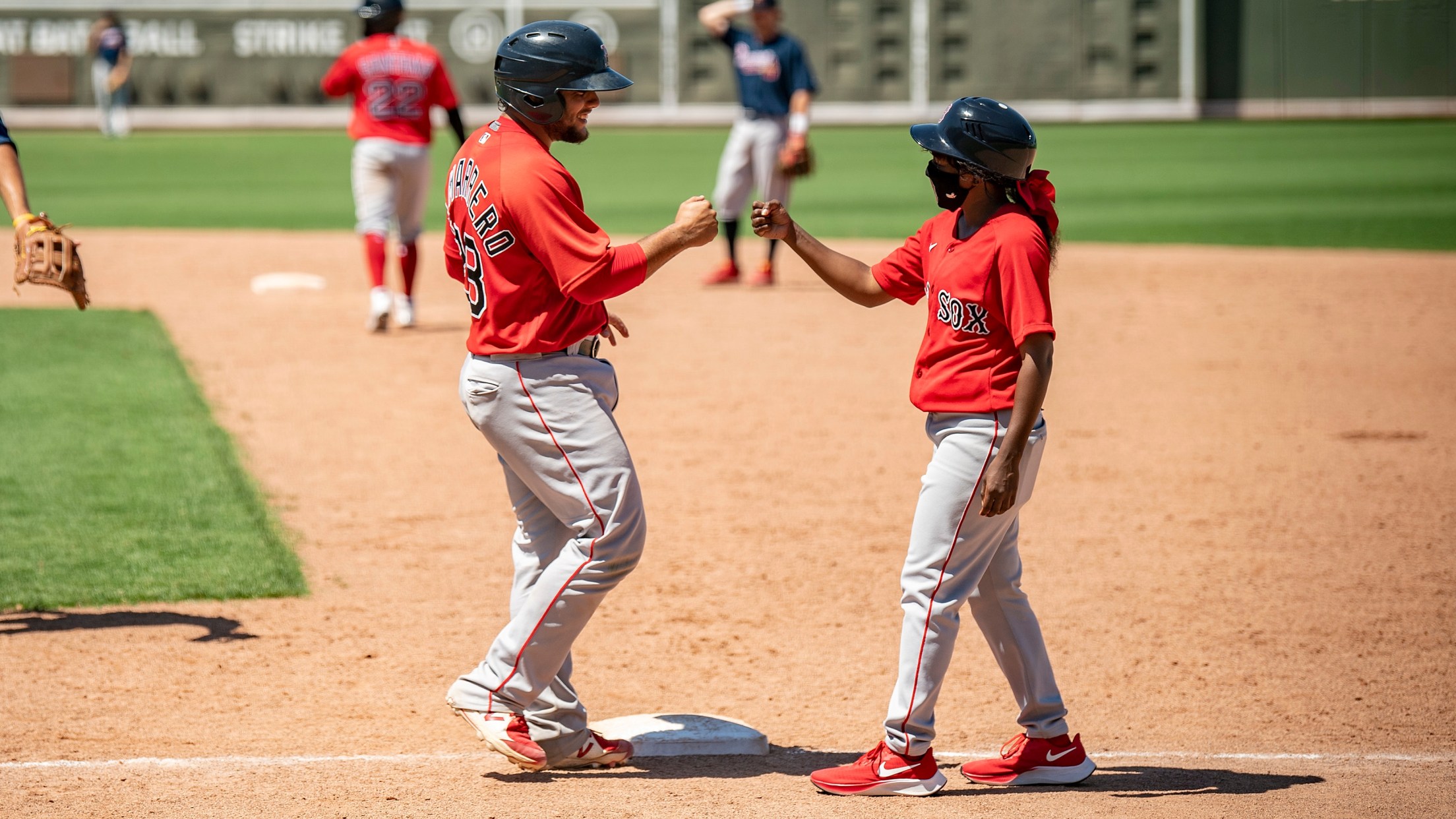 The FCL club featured two of the Red Sox's best hitting prospects in top-ranked Marcelo Mayer and No. 9 Blaze Jordan. Mayer, the 19-year-old, No. 9 overall prospect, was the fourth pick in the first round this past July. He batted .275 with eight extra-base hits and 17 RBIs in 26 FCL games.
Jordan was an internet sensation for his incredible raw power as a Mississippi high schooler and an above-slot third-rounder in the shortened 2020 Draft. He hit .362 with four homers and 19 RBIs before being promoted to Low-A Salem after just 19 games.
"I don't really have to say much on their skill because anybody can see that if they watch them," Smith said. "I can say that, as players, they were great to work with. And that's one of the things that's important to me because a lot of these guys coming in, they have the skill. Especially among these top guys, there's not much we actually have to tweak. Most of it is going to be just getting them used to the professional environment. Getting them into a mental, like a good mindset to be moved up, that's going to be the biggest one. And having good teammates. Things like that. Just being an actual team player. It's what's important and these guys made it really easy. Just getting to watch them progress. Just getting to be around them, joke with them, they're great guys to be with."
Smith described a pair of teenage sluggers with an enjoyable sense of humor. She recalled a time when she joked around with Jordan after he hustled out a double off the left-field wall, telling the 6-foot-2, 220-pound slugger that it's a lot easier to get around the bases if he just hits it over the fence -- which he proceeded to do in his next at-bat.
For everyone who's asked in the last three months, NOW it feels real #RedSox #LetsGo pic.twitter.com/CNx8H0G9Pg

— Bianca Smith ⚾️ (@biancaesmith12) April 3, 2021
Mayer, Smith said, was a natural leader who seemed wise beyond his years without shying away from the fun the game provides.
With a few important hires this offseason, the Minors have shown progress in being more inclusive for women. The Red Sox continued to do their part and hired Katie Krall as a developmental coach for Double-A Portland. For the past two years, Krall worked as a baseball operations analyst for the Reds, who also had Smith on their baseball ops staff as a trainee in 2019.
Rachel Balkovec will become the first female manager in the Minors when she takes over at Low-A Tampa this season. Caitlyn Callahan was also hired last month as a developmental coach for the Pirates' operations in Bradenton.
When Smith was hired last year, it was other trailblazing women in sports like Billie Jean King who stepped up with a public congratulations and important messages such as "representation matters." Now, as these changes occur in her space in Minor League Baseball, people look to Smith for her opinion on how these dynamics are evolving.
"Honestly, it's weird that even after a year I'm still getting used to it. But I think it's because, during the season, I don't think about that at all. I'm just strictly coaching," Smith said.
"Once I get into the offseason, I have to change my mindset. But at the same time it's really cool to be able to tell people, like I'm happy about the progress that we've been making.
"I think it's still a little slow. But at the same time, we've made a decent amount of progress in just the last three years. I'm excited to see where it goes from here."
Smith balanced a lot of responsibilities at her different college coaching jobs and internships, and her talent for that didn't go away when she got to the professional ranks. After fantasy camp let out, Smith stopped and saw her former team at the University of Dallas for a few days before going back to Wisconsin and helping out her old team at Carroll University.
It's a hectic time that figures to get a whole lot busier as Spring Training draws near. Smith said last year that her goal is to one day become a Major League manager. And her first step in professional baseball seems to be headed in the right direction for her.