Gray headlines Dodgers' spring invites
Top Los Angeles' pitching prospect leads non-roster players in camp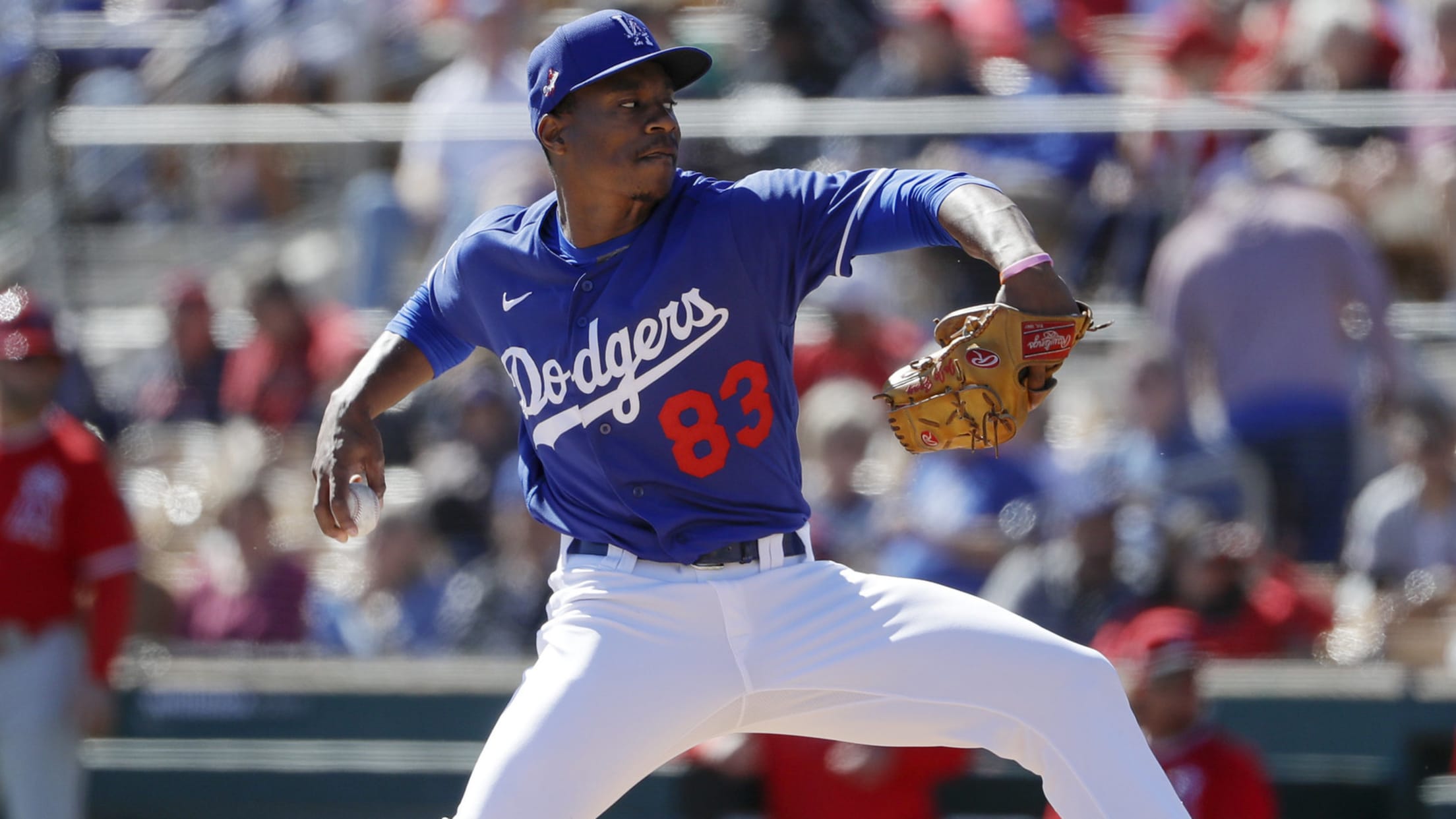 In 2019, Josiah Gray posted a sterling 0.99 WHIP with a 2.28 ERA and 147 strikeouts in 130 innings across three levels. (Gregory Bull/AP)
The top of the Dodgers' farm systems may not be as intimidating anymore, with players like Walker Buehler and Gavin Lux graduated, but Josiah Gray is knocking on the door. The club's No. 1 pitching prospect -- No. 58 overall, according to MLB.com -- will have the opportunity to show
The top of the Dodgers' farm systems may not be as intimidating anymore, with players like Walker Buehler and Gavin Lux graduated, but Josiah Gray is knocking on the door.
The club's No. 1 pitching prospect -- No. 58 overall, according to MLB.com -- will have the opportunity to show Los Angeles he belongs in the Majors after he was invited to Spring Training on Tuesday, along with several other ranked prospects in the Dodgers system.
Gray topped out at Double-A Tulsa in 2019, when he went 3-2 with a 2.79 ERA, 41 strikeouts and 11 walks in 39 1/3 innings. Overall that season, which included stints at Class A Great Lakes and Class A Advanced Rancho Cucamonga, the 23-year-old right-hander went 11-2 with a 2.28 ERA and a 147-to-31 strikeout-to-walk ratio in 130 frames.
Drafted by the Reds in the supplemental second round of the 2018 First-Year Player Draft out of LeMoyne, Gray was acquired from Cincinnati when Los Angeles sent Yasiel Puig to the Reds that December. The native of New Rochelle, New York, who wasn't a full-time pitcher until the summer of 2017, hits 97 mph with a plus fastball and features an above-average slider along with a developing curveball and changeup.
Right-handers Landon Knack (the Dodgers' No. 16 prospect) , Michael Grove (No. 18), Kendall Williams (No. 24), Ryan Pepiot (No. 25) and left-hander Robinson Ortiz (No. 29) rounded out the pitching prospects receiving invites to Major League camp.
Fellow top-10 prospects Kody Hoese (No. 3), Michael Busch (No. 4), Bobby Miller (No. 7) and Jacob Amaya will join Gray and company on the hitting side. Andy Pages (No. 12), Miguel Vargas (No. 14) and Omar Estevez (No. 22) also received invites.
In other Spring Training news:
Rockies trio heading to camp: Among the 22 non-roster invitees to Colorado camp were second-ranked Ryan Rolison, No. 4 Ryan Vilade and No. 16 Jameson Hannah. Left-hander Rolison, the club's first-round pick in 2018, and third baseman-turned-outfielder Vilade spent last summer at the Rockies' alternate training site. Colorado picked up outfielder Hannah with Robert Stephenson in the Jef Hoffman deal with Cincinnati in November.
Chris Tripodi is a coordinator for MiLB.com. Follow him on Twitter @christripodi.