Prospects in the Rays' 2020 player pool
In loaded system, Franco among prospects knocking on the door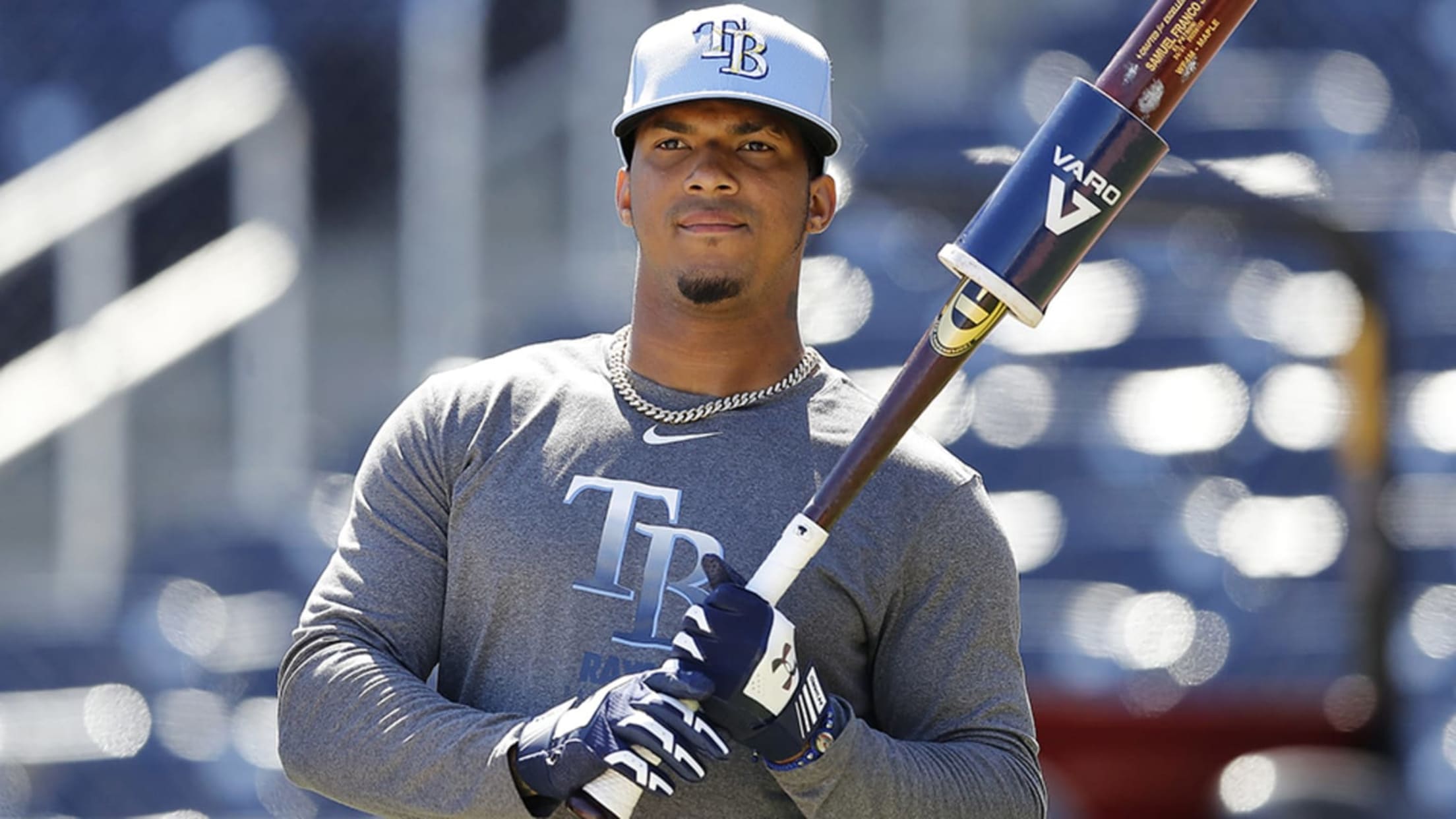 Wander Franco boasts a .928 OPS in 175 career Minor League games. (Michael Reaves/Getty Images)
As part of the new rules for the 2020 Major League season, each of the 30 organizations will maintain a 60-man player pool for the duration of the campaign. Some members of the player pool will feature on the active Major League roster while others will work out at an
As part of the new rules for the 2020 Major League season, each of the 30 organizations will maintain a 60-man player pool for the duration of the campaign. Some members of the player pool will feature on the active Major League roster while others will work out at an alternate training site in the hopes of staying fresh for a potential callup or getting in much-needed development time.
The MiLB.com staff is rounding up the notable prospects in each organization's 60-man player pool and analyzing what the new system will mean for their 2020 seasons.
Over the past five seasons, the Rays have worked their way back to become a contender in the American League East, all the while building an empire of top prospects.
Tampa Bay puts the best farm system in baseball on display with 15 of its top-30 prospects in the 60-man player pool. Led by MLB Pipeline's No. 1 overall prospect, Wander Franco, the pack features six infielders.
The pool also includes six pitchers, but Brent Honeywell Jr. is notably absent. The club's No. 6 prospect has not pitched in a meaningful game since September 2017 due to Tommy John surgery and another elbow procedure. Honeywell had begun throwing again this spring before requiring another surgery to repair his ulnar nerve, which will likely keep him off the mound through the summer.
Wander Franco, SS: Baseball's top prospect could make his Major League debut at the age of 19. It's unlikely, given Willy Adames' foothold at shortstop and Franco's lack of experience above Class A Advanced. But bringing the switch-hitter to Summer Camp leaves the door open. Franco, of course, has an 80-grade hit tool and plus skills across the board. In his first full Minor League season, the native of the Dominican Republic batted .327/.398/.487 in 114 games as he ascended to top prospectdom in 2019. In limited action at big league camp this year, he went 2-for-7 with an RBI, a run scored and a strikeout.
Brendan McKay, LHP/DH: While rumors swirled that MLB would halt Spring Training, McKay was on the mound for the Rays. And about 90 minutes after the Rays' No. 2 prospect exited his start, Major League Baseball made it official. McKay had been working his way back from shoulder stiffness that delayed his Grapefruit League start. Coming off his Major League debut in 2019, the two-way star was in serious consideration to crack the Opening Day roster and looks to regain that momentum at Summer Camp. McKay's arsenal is anchored by his fastball and cutter while his changeup and curve grade out as average. The Rays have mostly used MLB.com's No. 15 overall prospect as a starting pitcher, though he made one start at designated hitter and three pinch-hitting appearances. McKay's versatility will provide extra value during this unique season.
Vidal Brujan, 2B/SS: In the Rays' glut of shortstops, Brujan moved to his left and is now ranked by MLB Pipeline as the No. 3 second base prospect in baseball. After reaching Double-A last summer and posting a strong Arizona Fall League campaign, the speedy 22-year-old might have reached the Majors this season, had it been a full year. In a small taste this spring, Brujan contributed two doubles and two RBIs in 17 at-bats. He showcases a 70-grade run tool as well as a 60-grade hit tool to be a tantalizing pinch-hit or pinch-run option as Kevin Cash looks to give his guys breaks down the stretch.
Shane Baz, RHP: In the most unique situation, Baz is getting his first experience at a big league camp. The 21-year-old joined the organization in August 2018 as part of the Chris Archer deal with the Pirates. After a couple shaky starts immediately following the trade, Baz hit his stride in 2019. With a 70-grade fastball and 65-grade slider, the Rays' No. 5 prospect (No. 90 overall) went 3-2 with a 2.99 ERA, 87 strikeouts and 37 walks over 81 1/3 innings in 17 starts for Class A Bowling Green. While Baz turned 21 last month, he has only 157 1/3 frames under his belt, none at the upper levels, so it's not likely he'll be called upon this season. But it should be a great opportunity to soak up time with more experienced pitchers, as he was able to do in the Fall League last year.
Shane McClanahan, LHP: During Spring Training I, McClanahan made a strong impression for a callup this summer. Now that he's on the 60-man roster, his bid continues. Drafted 31st overall in 2018, he cruised through his first full season, going 11-6 with a 3.36 ERA, 154 strikeouts and 45 walks over 120 2/3 innings in 24 games -- including 22 starts -- as he climbed from Class A to Double-A Montgomery. This spring, McClanahan picked up valuable information from locker room neighbors Blake Snell and Charlie Morton while impressing Cash with his combination of upper-90s fastball and unhittable breaking ball. It's a 1-2 punch he very well could use against Major League hitters this summer.
Joe Ryan, RHP: Like McClanahan, Ryan climbed three levels in his first full Minor League season last year and made a strong impression this spring. The Rays' No. 8 prospect ranked second in the Minors with 183 strikeouts (against 27 walks) over 123 2/3 innings. On top of the punchouts, he posted a 1.96 ERA in 24 games -- including 22 starts -- en route to being named the organization's Minor League Pitcher of the Year. With a five-pitch arsenal, Ryan struck out eight and walked two over 7 1/3 frames at big league camp, finishing with a scoreless start against the Braves on March 7. The 24-year-old is another intriguing option.
Josh Lowe, OF: Rays fans were introduced to Nate Lowe last summer, and now they have a chance to meet his younger brother. The 2016 first-rounder flexed his plus speed with Montgomery, swiping 30 bases in 39 attempts. Coupling those wheels with a plus arm and fielding tools, Lowe is a force in center field. The left-handed hitter also found his power in 2019, drilling a career-high 18 homers in 121 games for the Biscuits. He got even stronger in the AFL, hitting .327/.379/.558 in 15 contests. In a system loaded with infielders, Lowe is one to watch on the grass.
Ronaldo Hernandez, C: As the organization's only ranked catcher, Hernandez stands as the Trop's backstop of the future. With that comes the idea there's no need to rush him. As it stands, the 22-year-old is the fifth catcher on the depth chart, so the value of his summer most likely will be found in working with the Rays' top pitching prospects in Port Charlotte. Hernandez, the club's No. 11 prospect, shuts down runners with a 70-grade arm, throwing out 39 percent of would-be basestealers last year in the Florida State League. At the plate, he has the potential to hit 20 homers.
Taylor Walls, SS: Did we mention the Rays like middle infielders? Walls provides another option at short and became more versatile last season, taking reps at second and third. Tampa Bay's No. 15 prospect might not have gotten the same attention as others, but he does have his organization's attention, being named Defensive Player of the Year two seasons in a row. Walls, who turns 24 on Friday has a consistent bat from both sides of the plate, running into some power without striking out a ton. The Florida State product also is a threat on the basepaths, stealing 28 bags in 43 tries with Charlotte and Montgomery a year ago.
Kevin Padlo, 3B: A year ago, Padlo was in the midst of a 5-for-23 stretch at Double-A. Then he got the call to Triple-A and turned things right around. In 40 games with Durham, the Rays' No. 16 prospect batted .290/.400/.595 with 21 extra-base hits. Turning 24 next week the California native adds versatility, spending some time at first base and second. Talk swirled around Padlo becoming a role player off the bench for Tampa Bay this season. And while persistent headaches kept him off the field in Grapefruit League play, he has an opportunity to pick up where he left off.
Other notables: Randy Arozarena (Rays No. 17) went 8-for-20 (.400) with six RBIs this spring and will be in the conversation as an extra outfielder. … With a 70-grade fastball, Peter Fairbanks (No. 24) is a strong option out of the bullpen. The 26-year-old made his big league debut with Texas in June 2019 before being dealt to the Rays for second baseman Nick Solak … Lucius Fox (No. 25) provides even more depth at short and has seen a little time at second and third. He also can also be slotted in as a speedy pinch-runner. … Although he struggled in his first taste of Triple-A last year, Josh Fleming (No. 28) is a rotation possibility. The southpaw notched a 3.38 ERA in four spring appearances. … After seven years in the Mexican League, Esteban Quiroz (No. 30) broke out in the Red Sox system in 2018, was dealt to the Padres that November, then was traded to the Rays in March. Quiroz's biggest moment came as a pinch-hitter last August when he slugged a walk-off grand slam to complete Triple-A El Paso's 10-run comeback in the ninth and break the Pacific Coast League single-season home run record.
Kelsie Heneghan is a writer for MiLB.com. Follow her on Twitter @Kelsie_Heneghan.