State of the System: Cleveland Indians
Jones, middle infielders ready to make an impact in Cleveland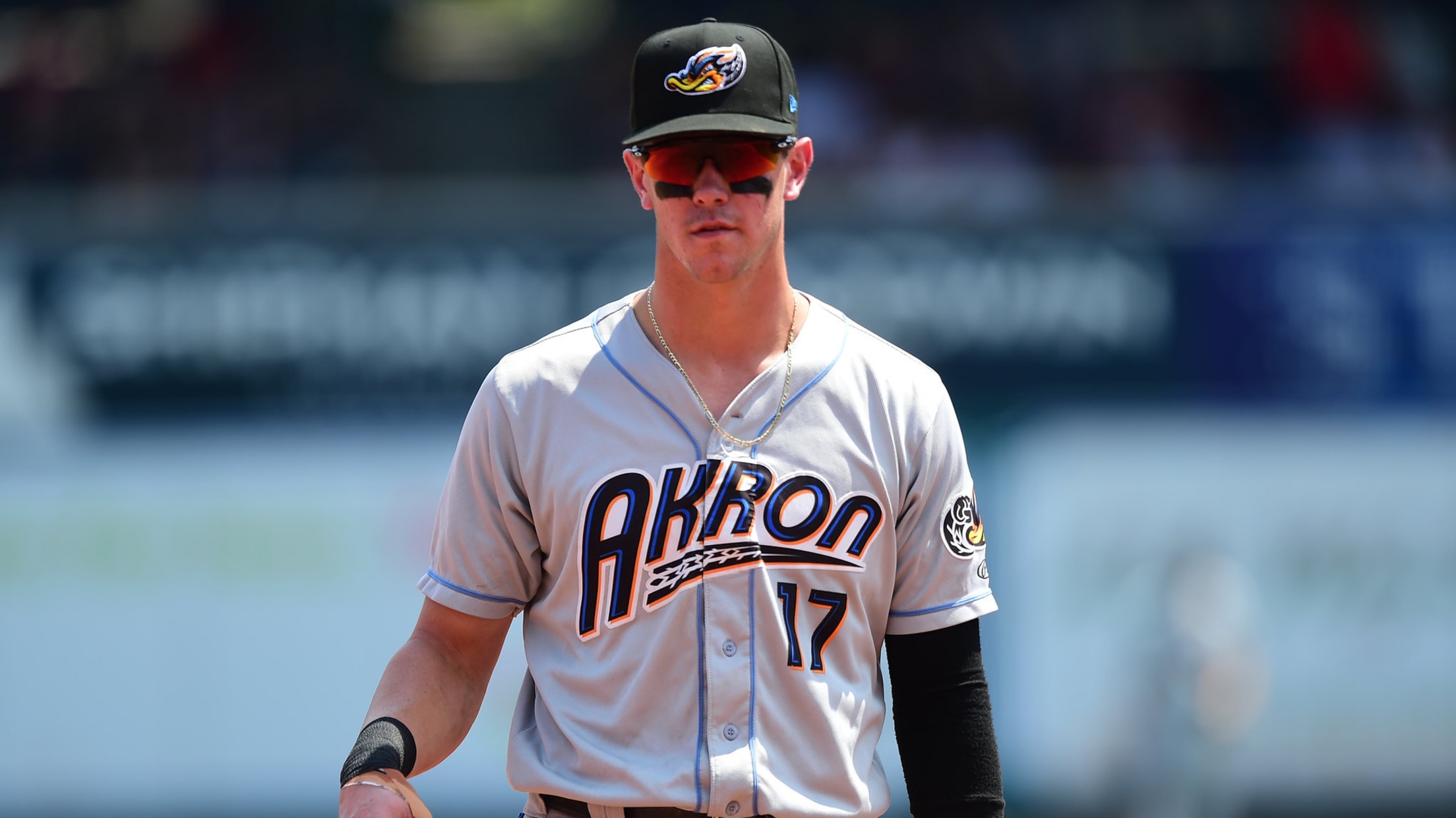 Nolan Jones' character, talent and work ethic could lead him to an important role with the big league club in 2021. (Kevin Pataky/MiLB.com)
Starting in October and running through the end of the year, MiLB.com's State of the System series evaluates the strengths and weaknesses of each Major League organization, highlighting prospects who've made the biggest strides in 2020 and offering a peek at 2021. After the Indians' three-year playoff streak was snapped
Starting in October and running through the end of the year, MiLB.com's State of the System series evaluates the strengths and weaknesses of each Major League organization, highlighting prospects who've made the biggest strides in 2020 and offering a peek at 2021.
After the Indians' three-year playoff streak was snapped in 2019 despite their 93-69 record, Cleveland made it back to the postseason for the fourth time in five seasons this year, bowing out in two games in the Wild Card round against the Yankees.
Despite the disappointing end, there were plenty of positives to take from Cleveland's season. Homegrown ace Shane Bieber took a giant leap forward after a notable rookie season, going 8-1 with a 1.63 ERA and 122 strikeouts in 77 1/3 innings and running away with the American League Cy Young award, becoming the first unanimous winner since Justin Verlander in 2011.
Fellow right-handers Triston McKenzie and James Karinchak debuted in impressive fashion and played a big part in the Indians' overall success on the mound. Cleveland's staff led the circuit in ERA (3.29), WHIP (1.11), average-against (.223) and walks (157) while finishing with a Major League-best 621 strikeouts and helping lead the team to the postseason.
Another homegrown star led the offense, with Jose Ramirez finishing second in AL MVP voting to division rival Jose Abreu of the White Sox. The biggest question of Cleveland's offseason surrounds the fate of another infielder who came up in the team's farm system, however, as trade rumors continue to swirl around shortshop Francisco Lindor.
Regardless of what happens with a potential Lindor trade, the Indians expect to be back in the postseason mix again next season.
System strengths: Cleveland's top five prospects play different positions, including shortshop Tyler Freeman, but three of the next four prospects in the organization's top 30 reside in the middle infield, and none of the three are above the age of 20.
Two of them, Brayan Rocchio and Aaron Bracho, are considered very advanced for their ages, with Rocchio earning the nickname "The Professor" even though he won't turn 20 until January and after Bracho struck out 29 in 38 games between the Rookie-level Arizona League and Class A Short Season Mahoning Valley in 2019. The depth spans into the teens with Gabriel Rodriguez and 2020 first round-pick Carson Tucker.
"Credit to both our amateur and international scouting staffs in this case ... we have some super talented shortstops, and we're trying to foster that into growth at shortstop and versatility, because we have to," Indians assistant director of player development Rob Cerfolio said. "Introducing them to second base, third base and even other positions just to add to their versatility.
"Some of the guy in the next class, Angel Martinez and Rodriguez from the [Dominican Summer League], as well as Tucker and [Milan] Tolentino from this year's Draft class; it makes for some really cool and competitive environments. It gives us options from top to bottom."
Areas for growth: The best outfielder on the Indians' Major League roster is Franmil Reyes , who made 207 of his 211 plate appearances out of the designated hitter spot in 2020. Every Indians infielder reached 250 plate appearances and had an OPS above .695 this season, but Tyler Naquin -- who recently hit free agency -- was the only outfielder to top 120 plate appearances (141) and only Jordan Luplow posted an OPS over .650 (.663).
Fifth-ranked prospect George Valera just turned 21 and has six games of full-season ball under his belt, and the Indians don't have another outfielder ranked within their top 15 prospects. But despite his tender age, Valera's performance at the alternate site left a good impression on the team heading in the offseason.
"Valera is one that immediately jumps out. He's younger by age, but by skill set, he's not quite as young," Cerfolio said. "For a guy who hadn't played above Short-Season A to jump in with Double-A and Triple-A players, it was an awesome learning experience and he tackled it head on. He fits the mold as an exciting young outfielder in the organization ... where we do lean a little more on the young side."
Valera's advanced abilities, Josh Naylor's two-game playoff spurt, increased outfield reps for top prospect Nolan Jones and the emergence of under-the-radar prospects like 2020 third-rounder Petey Halpin provide a blueprint for Cleveland's future outfield plans, according to Cerfolio.
What's changed: The Indians made the biggest splash at this season's Trade Deadline, shipping right-hander Mike Clevinger, speedy outfielder Greg Allen and a player to be named later (who wound up being right-hander Matt Waldron) to the Padres for Naylor, catcher Austin Hedges, right-hander Cal Quantrill and three of San Diego's top 11 prospects at the time -- shortstop Gabriel Arias, left-hander Joey Cantillo and middle infielder Owen Miller. All of them currently reside in the top 18 of Cleveland's farm system.
Arias and Miller add to the system's strength up the middle. At age 19, Arias batted .302/.339/.470 with 17 home runs, 75 RBIs and eight stolen bases in 120 games for Class A Advanced Lake Elsinore in 2019. Miller hit .290/.355/.430 with 13 homers, 68 RBIs and five steals at Double-A Amarillo the same year.
"Arias is a really good defender that can hit for power as well, and he showed that with us [at the alternate site]," Cerfolio said. "Probably a 75- or 80-grade arm, which was one of the first things that stood out ... and his overall defensive prowess is super impressive.
"Miller can play all over the place. Plus contact and can hit for some power as well. Another young infielder that can bounce all around that we're excited about the offensive upside with."
Cantillo went 9-3 with a 1.93 ERA and 128-to-27 strikeout-to-walk-ratio in 19 starts for Class A Fort Wayne in 2019 before moving up for three starts at Lake Elsinore in August. The soon-to-be 21-year-old particularly stood out in an Aug. 17 start against Stockton, picking up a win by allowing two hits and striking out six over five frames, and he slots in as the top left-handed pitching prospect on the organizational depth chart.
"[Cantillo was] one of the younger guys in the group and really held his own," Cerfolio said. "For him to get a chance with some of the group we've had success with and jump in with [guys like] Ethan Hankins and Daniel Espino, just trying to complement his already exciting skill set. He's a young left-hander with a high level of production.
Alternate site standouts: The top of the Indians farm system represented itself well at the alternate site despite the relative youth of guys like Jones, Freeman, Valera and No. 4 prospect Bo Naylor, the latter two of whom entered camp at age 20 or younger.
"The ones that jumped out to me, not that this is much of a surprise given how they're regarded, but Jones, Freeman and Bo Naylor were obviously three of our younger players that were younger but held their own and were some of the best performers of that group," Cerfolio said. "Credit to those guys on how they go about their business. … I thought they did an awesome job coming with a certain mind-set.
"It kind of got monotonous at times … but those three, in particular, did an awesome job of raising their own games."
With several players reaching the Majors for the first time this season as well, that created extra spots for prospects to impress this summer, and several took advantage of the opportunity to make an impression on the coaching staff.
"It was obviously great to have some of the younger prospects like Hankins, Espino and Cantillo, and some of our relievers, Nick Sandlin and Sam Hentges, really took on some positive strides and increased their chances of helping the Major League team in the next year or two."
Impact rookies: A little more than a week before the Clevinger trade, the Indians promoted top pitching prospect Triston McKenzie to make his Major League debut against Detroit. In his first appearance in a game setting since August 2018, McKenzie showed no rust while striking out 10 Tigers and allowing one earned run on two hits and a walk over six innings. He didn't allow a hit until Willi Castro's one-out home run in the fourth and struck out five of the final six batters he faced to earn another start the following week.
Two starts later, McKenzie tossed six scoreless innings against the Royals to officially put the AL Central on notice. The lanky right-hander finished the season with a 2-1 record, a 3.24 ERA, 42 strikeouts and nine walks in 33 1/3 innings.
"You talk about a guy who hadn't been able to play structured baseball due to injuries, it's just a huge credit to him and how he went about partnering with our coaches and diving into his rehab," Cerfolio said. "He's just an awesome competitor and [did] everything he could to get himself back to the Triston McKenzie we all saw dominate in 2017 and 2018."
You think @T_eazy24 came ready to pitch this season?

The @Indians No. 10 prospect put in another 🔥 outing, lowering his ERA to 1.69 through three big league starts. pic.twitter.com/0DwVriLgaX

— Minor League Baseball (@MiLB) September 3, 2020
Despite his success, McKenzie didn't even lead Cleveland rookies in strikeouts. That honor went to right-hander James Karinchak, who fanned a whopping 53 batters in 27 innings out of the Indians bullpen. Karinchak flashed dominance in his 2019 debut, when he struck out eight and allowed one earned run over 5 1/3 innings of relief, but he took a big step forward in 2020 and finished with a 2.67 ERA while holding opposing batters to a .159 average-against. His 53 strikeouts tied National League Rookie of the Year Devin Williams' total.
"[Karinchak's] stuff is so good it speaks for itself," Cerfolio said. "The way he's continued to refine his approach and strike throwing and delivery, the results speak for themselves."
Next big thing: The Indians added Jones to their 40-man roster in November to shield him from the Rule 5 Draft, and a debut for the 2016 second-round pick could be on the horizon in 2021. With starting second baseman Cesar Hernandez hitting free agency and third baseman Jose Ramirez capable of shifting back to the keystone, there is a theoretical opening in Cleveland's starting lineup for the 2021 season.
Add in the added versatility to potentially play the outfield, and Jones is setting himself up for an opportunity after he batted .272/.409/.442 with 15 home runs, seven stolen bases and a Minor League-leading 96 walks in 2019, despite missing out on potential Triple-A experience in 2020.
"Nolan's character, work ethic and desire to want to play and challenge himself, that's what really stands out about him," Cerfolio said. "The way he goes about his business every day, whether it's at third or in the outfield, when he ultimately gets that chance, he's going to attack his work and go about his business in a true professional method. We're really excited for his opportunity whenever that comes and just looking to help support him so when he gets that chance, he's ready to impact our team."
Chris Tripodi is a coordinator for MiLB.com. Follow him on Twitter @christripodi.