The Road to The Show™: 2022 Draft Picks
Holliday, Rocker, Hughes among early-season standouts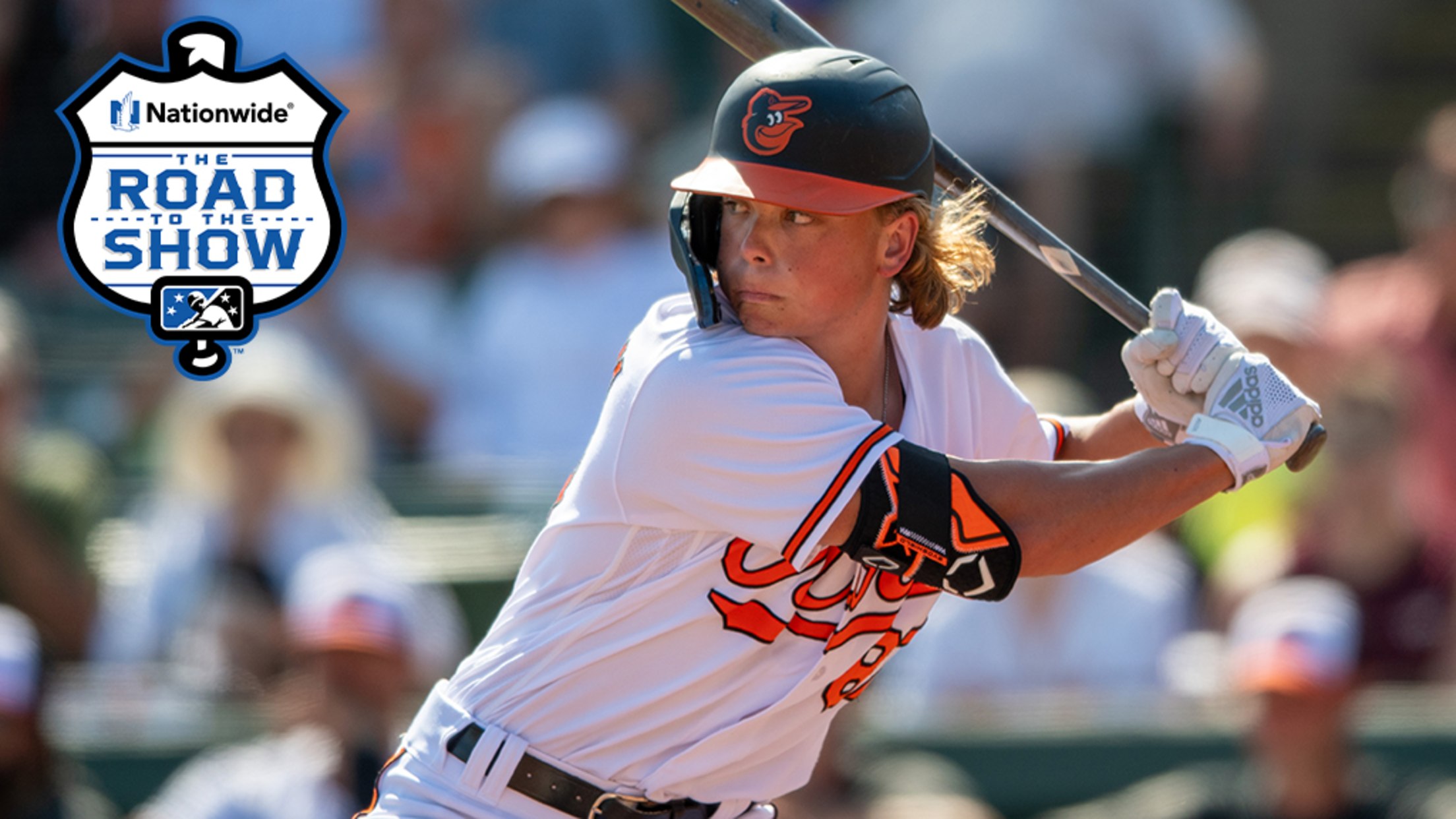 Jackson Holliday was promoted to High-A Aberdeen after batting .392 over 13 games with Single-A Delmarva. (Kathryn Skeean/MLB.com)
Each week, MiLB.com profiles an elite prospect by chronicling the steps he's taken toward achieving his Major League dream. Here's a look at how some 2022 Draft picks have fared in their first month of full-season action. For more stories about players on The Road to The Show, click here.
Each week, MiLB.com profiles an elite prospect by chronicling the steps he's taken toward achieving his Major League dream. Here's a look at how some 2022 Draft picks have fared in their first month of full-season action. For more stories about players on The Road to The Show, click here.
During his introductory press conference in Baltimore as the No. 1 overall selection in last year's Draft, Jackson Holliday expressed hope that he could reach the Majors quickly. So far, he's on a pretty good pace.
Holliday, MLB Pipeline's No. 10 overall prospect, was promoted to High-A Aberdeen on Monday after getting off to a fast start in his first full season. He was named Carolina League Player of the Week in his curtain call with Single-A Delmarva.
"It's awesome to be able to get into an organization that is heading in such a great direction," Holliday told MLB.com. "I'm hoping that I can get [to Baltimore] fast and contribute in a good way."
In 13 games, Holliday batted .392 with a 1.190 OPS. He collected nine extra-base hits, including a pair of homers that came in the same game. He also stole three bases and had a higher walk rate (21.5 percent) than strikeout rate (18.5 percent).
Holliday won't be the first member of the 2022 Draft class to reach the Majors when that day comes. That honor belongs to Zach Neto, the No. 13 overall selection, who has an opportunity to take over as the Angels' full-time shortstop. But Holliday is moving rather quickly toward his big league opportunity.
The 19-year-old is younger than everybody that appeared on a High-A club's Opening Day roster. There have also been just seven players drafted in 2022 who have played at multiple levels already this season.
The Orioles selected Holliday, a lefty-batting shortstop and son of seven-time All-Star Matt Holliday, out of Stillwater (Okla.) High School and signed him to a reported $8.19 million signing bonus, which was a record for a high school player.
Holliday also forced a quick promotion last year after being drafted. He reported to the Rookie-level Florida Complex League in August and tore the cover off the ball for eight games, batting .409 with a 1.167 OPS. Holliday recorded his first professional homer and drew 10 walks while striking out just twice.
The six-foot, 185-pound slugger finished the remainder of the 2022 season with Delmarva. Holliday didn't quite tear up the Carolina League the way he did at the beginning of this season. But again, he displayed plate discipline and an advanced approach, collecting 15 walks and striking out 10 times in 12 games.
Holliday's hot start in 2023 was likely forecasted by his incredible spring. In 16 Grapefruit League appearances, he collected six hits in 14 at-bats and drew four walks. So far, he's been everything the Orioles could have asked for from a No. 1 overall pick.
Below are some other 2022 Draftees who have had a strong start to their first full season. Click HERE for a more in-depth look at the most successful players in each Draft class since 1995.
Kumar Rocker, RHP - Texas Rangers
Rocker looked like his absolutely dominant college self in his first two Minor League starts for High-A Hickory. He gave up his first runs of the season in his third start against Bowling Green and enters the week with a 2.19 ERA and 20 punchouts over 12 ⅓ innings. Rocker's ERA, WHIP (0.81) and opponent's batting average (.159) are the best among the four 2022 Draftees with at least 20 strikeouts so far this season. After one of the most well-decorated college careers ever at Vanderbilt, Rocker was drafted by the Mets with the No. 10 overall pick in 2021. New York never offered him a contract, however, after some concerns arose following his physical. Instead of returning to Vanderbilt, Rocker underwent shoulder surgery that fall and pitched for the Tri-City ValleyCats of the Frontier League in 2022. The Rangers selected him with the No. 3 overall pick last year, and he made his professional debut with Surprise in the Arizona Fall League.
Spencer Jones, OF - New York Yankees
The 6-foot-6, 225-pound slugger from Vanderbilt cooled off a bit for High-A Hudson Valley in the past week, but Jones made more noise than most Minor League hitters out of the gate after Opening Day. The No. 25 overall pick had 10 hits through his first 22 at-bats, seven of which went for extra bases, including three that left the yard. So far, he's one of only 12 members of last year's Draft class with at least three homers. Jones enters the week batting .255 with an .815 OPS, four stolen bases and 10 RBIs through 13 games. New York's No. 5 prospect has been bitten by strikeouts as of late, with 16 in his past eight games.
Gabriel Hughes, RHP - Colorado Rockies
The No. 10 overall selection, Hughes opened the season with five hitless innings against Eugene, and then set a season high with seven punchouts in his following start. In total, he's struck out 13 batters while allowing just three total hits with a 0.90 ERA over 10 frames. So far, he's one of seven 2022 Draftees to complete at least 10 innings and post an ERA better than 1.00. The 6-foot-4, 220-pound power pitcher has had an interesting path to professional ball. He was born in Anchorage, Alaska, and is currently pitching in his college town in Spokane, where he went to Gonzaga. Colorado's No. 6 prospect was a two-way player in college but transitioned to the rotation full-time in 2022.
Sterlin Thompson, OF - Colorado Rockies
It's been a pretty incredible month for Thompson, who has reached base in more than half his plate appearances through the first month of the season with High-A Spokane. Thompson enters the week ranked second in the Minors with a .477 average, while his .519 on-base percentage ranks 16th. He's one of 10 qualified hitters batting at least .400 at this stage in the season. The No. 31 overall pick and eighth-ranked Rockies prospect has also used the whole field to achieve his 21 hits this season, going to the opposite side nearly as often (33 percent) as he's pulled a hit into right field (35.7 percent). While it remains to be seen what kind of power Thompson can produce from his 6-foot-4, 200-pound frame, he's already shown an advanced ability to put the bat on the ball.