The Road to The Show™: Cubs' Alcantara
No. 86 overall prospect flashes star potential in first full season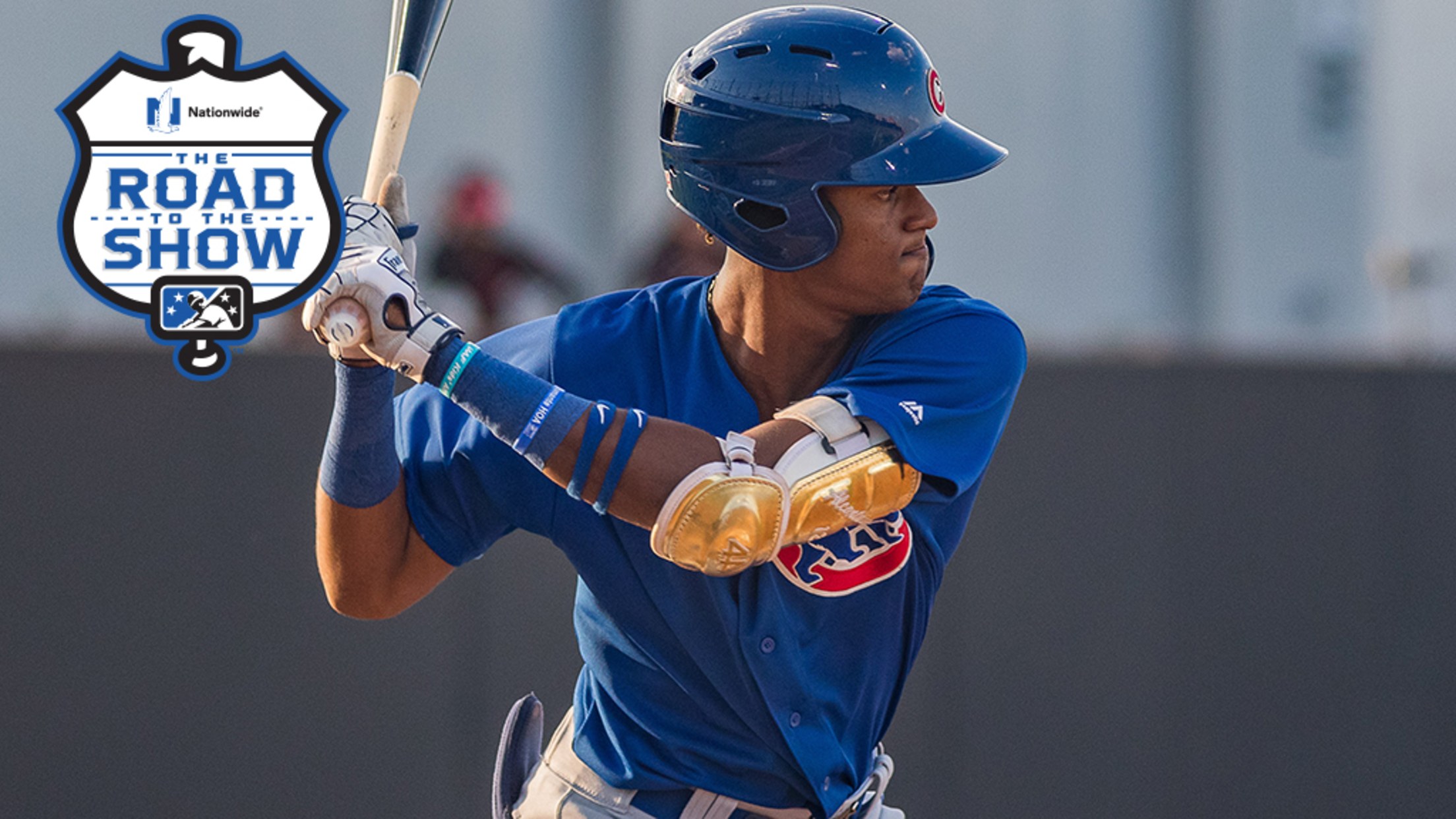 Kevin Alcantara batted .273 with 15 homers and 85 RBIs in his first full season with Single-A Myrtle Beach. (Freek Bouw/Phrake Photography)
Each week, MiLB.com profiles an elite prospect by chronicling the steps he's taken toward achieving his Major League dream. Here's a look at third-ranked Cubs prospect Kevin Alcantara. For more stories about players on The Road to The Show, click here. As he approached the age of eligibility to sign
Each week, MiLB.com profiles an elite prospect by chronicling the steps he's taken toward achieving his Major League dream. Here's a look at third-ranked Cubs prospect Kevin Alcantara. For more stories about players on The Road to The Show, click here.
As he approached the age of eligibility to sign with a Major League club in 2018, Kevin Alcantara earned a scouting label that's as vague as it is ennobling.
Alcantara, then in his native Dominican Republic, showed the traits of what scouts call "a gamer." That label, unclear as it may seem, is reserved for players who are able to call upon their best raw tools when it counts.
It took a long time for the rest of the baseball world to get a comprehensive view of Alcantara in significant game situations. He spent the 2019 and 2021 seasons in Rookie ball but finally debuted outside the complex leagues with Single-A Myrtle Beach in 2022, his first full year in the Cubs system.
Through 112 games with the Pelicans, Alcantara did indeed show off all the characteristics of a gamer. He batted .273/.360/.451 with 15 homers, 85 RBIs and 76 runs scored. The Santo Domingo native added 19 doubles, six triples and 55 free passes while providing a spectacle with his outfield defense.
"He himself is entertainment," Myrtle Beach hitting coach Steven Pollakov told MLB.com in June. "Every time he's on the field, you expect something spectacular. It's that simple. Whether it's hitting balls off scoreboards, whether it's making a diving catch or whether it's empowering his teammates or interacting with the fans, this kid is everything fans are going to want to see at Wrigley on a daily basis."
The Cubs protected their third-ranked prospect from the Rule 5 Draft by adding him to the 40-man roster in November.
At 6-foot-6, 188 pounds, Alcantara moves fluidly through the outfield and on the bases, and he's given himself the nickname "The Jaguar."
"The way he moves is just so smooth. You can tell he glides across the outfield or around the bases," Myrtle Beach teammate James Triantos told Marquee Sports Network last year. "I think it's the perfect nickname for him."
Alcantara's bat-to-ball skills are his only tool that doesn't have a plus grade of 55, and he showed some strikeout issues throughout his professional career, including a 24.8 percent whiff rate this season.
In nearly 200 professional games, MLB Pipeline's No. 86 overall prospect has shown the potential to be a five-tool superstar. It's a tall order to place on a 20-year-old who hasn't played above Single-A. But that comes with the territory considering Alcantara also inherited the lofty expectations that come with being part of a trade that sent a franchise icon out of town.
Alcantara originally signed with the Yankees on his 16th birthday in 2018 and landed with the Cubs in the trade that sent Anthony Rizzo to New York three years later.
Lanky, long-limbed and taller than most in his class, Alcantara was well-known as an amateur. His bat speed and projectable frame stood out among his class, and he ranked as No. 14 on MLB Pipeline's international prospects list in 2018. He signed a $1 million bonus with the Yankees and made his professional debut the following June in the Dominican Summer League.
Alcantara played just nine games in the DSL before the Yankees brought him stateside to the Gulf Coast League. Upon his GCL debut, he was the only 16-year-old to play on a domestic Minor League club. He finished that season with a .255 average and .665 OPS with 12 extra-base hits and 12 RBIs in 41 games.
After missing significant time due to the pandemic, the Yankees kept him in short-season ball in 2021. He once again played only nine games, this time in the Florida Complex League, before being traded to the Cubs.
"There were rumors, but I wasn't prepared for that -- to be traded," Alcantara said in a club-produced video in July. "I was in shock and then, 'OK, let's do it!'"
He left Florida for Arizona to play out the remainder of the season. His 2021 season provided only a 34-game sample, but he showed that there could be something special to his game. Alcantara batted .345 overall with a 1.011 OPS and 14 extra-base hits, including five homers. He had more strikeouts (36) than games played, but his .456 BABIP was the 10th-best among all Minor Leaguers with at least 130 plate appearances that season.
Though it may have been a small sample, Alcantara's success brought about excitement for his full-season debut.
Meet "The Jaguar."

On Deck, Episode 3: Kevin Alcántara

Watch now: https://t.co/SAV2mnLMka pic.twitter.com/CMgAWGcUTb

— Chicago Cubs (@Cubs) December 16, 2022
It took a little while for Alcantara to get going in 2022, but he really hit his stride at the end of the first month of the season. In 48 games from April 27 to June 23, the day the Pelicans clinched the first-half title, he batted .283 with a .913 OPS, 10 homers, 39 RBIs and 37 runs scored.
"He drives the ball … it doesn't matter where he is in the lineup. He's going to mush baseballs. That's what he does," Pollakov said. "He's done a great job of really showing teams that he can hit the fastball no matter where it is, no matter what velocity it is, so he's been getting a heavy dose of sliders. He's been showing now he can not only spit on the bad ones but also destroy the ones that he has a chance to do damage on."
Alcantara maintained a steady pace throughout the rest of the regular season and got hot again as the Pelicans approached the playoffs. Over the final month of the season, including Myrtle Beach's semifinal matchup with Charleston, Alcantara batted .337/.398/.518 with four homers, 13 RBIs and 14 runs scored in 22 games.
"This is what positive development looks like," Pollakov said. "He has extremely high expectations of himself. … He knows what he's capable of, and we know what he's capable of. We hold him to the highest standard, and he appreciates that and embraces that, and he also holds himself to that standard. When you put those together, you get greatness."
The trade for Alcantara was one of the many moves that summer to signal the end of the most successful chapter in franchise history. But, with Alcantara punctuating a Cubs system brimming with outfield talent -- including the Cubs' top two prospects, Pete Crow-Armstrong and Brennen Davis -- there could be another exciting era of baseball arriving soon to Wrigley Field.