The Road to The Show™: Reds' Arroyo
No. 44 overall prospect finding his way in new organization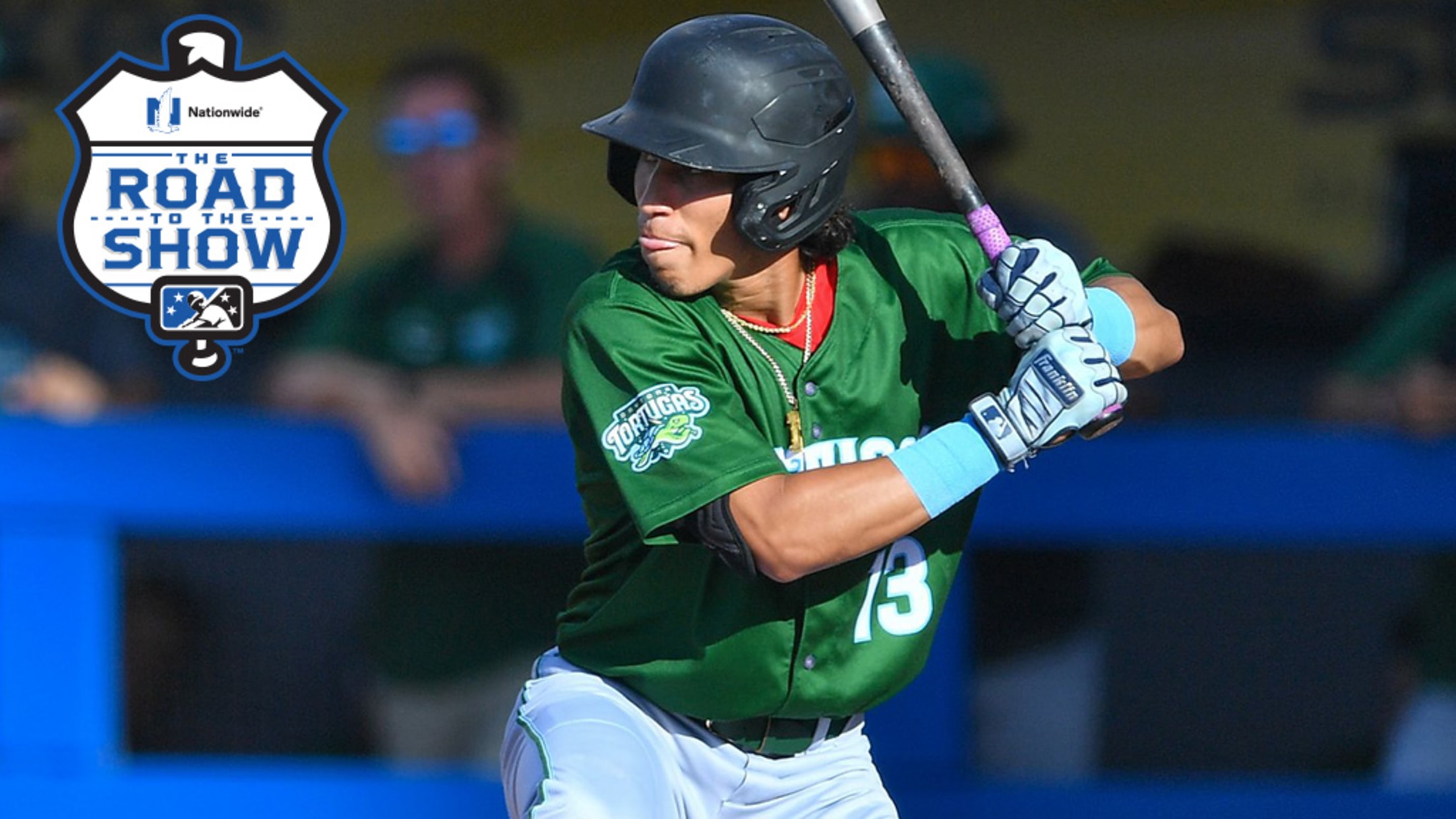 Edwin Arroyo was one of only 13 Minor Leaguers with at least 10 triples last season as he saw time at Single-A Modesto and High-A Daytona. (Daytona Tortugas)
Each week, MiLB.com profiles an elite prospect by chronicling the steps he's taken toward achieving his Major League dream. Here's a look at third-ranked Reds prospect Edwin Arroyo. For more stories about players on The Road to The Show, click here. Edwin Arroyo's most impressive tool may be one he
Each week, MiLB.com profiles an elite prospect by chronicling the steps he's taken toward achieving his Major League dream. Here's a look at third-ranked Reds prospect Edwin Arroyo. For more stories about players on The Road to The Show, click here.
Edwin Arroyo's most impressive tool may be one he never shows off in a professional game.
The Reds' switch-hitting, uber-athletic shortstop prospect is also a switch-thrower and had been known for pitching with both hands as an amateur.
"I don't use it too much because I'm a shortstop," Arroyo said in 2021. "But if I can use it shagging [fly balls] or something like that, I just go lefty."
MLB Pipeline's No. 44 overall prospect landed with Cincinnati in the Trade Deadline deal that sent ace Luis Castillo to the Mariners. Arroyo was part of a four-prospect package that included fellow shortstop Noelvi Marte and right-handers Levi Stoudt and Andrew Moore.
"We've got guys that are premium athletes, potentially middle of the order bats," general manager Nick Krall told MLB.com after the trade.
At present, Arroyo's fielding ability outweighs his talents at the plate. But he swung the bat well in his first full season at Single-A with Modesto and, after the trade, Daytona. He finished with a .293/.366/.480 slash line and 49 extra-base hits, including 14 homers and 84 RBIs. He also swiped 27 bases, scored 93 times and was one of only 13 Minor Leaguers with at least 10 triples.
Among the Reds' deep crop of shortstop prospects, the 19-year-old Arroyo is the furthest away from the Majors. But he's also the most likely to stick at the position for the long term. MLB Pipeline rates Arroyo's glove (60) as the best in an athletic and defensively versatile group that includes Elly De La Cruz (55), Marte (50) and Spencer Steer (45).
No. 3 @Reds prospect Edwin Arroyo continues his strong spring with an RBI double to left. pic.twitter.com/WC2wrtGNPu

— Minor League Baseball (@MiLB) March 6, 2023
Born in Arecibo, Puerto Rico, Arroyo and his family moved to Kissimmee, Florida, at the end of his high school career as he took on the showcase circuit stateside. Arroyo was one of the youngest players in the 2021 Draft class and the top Draft prospect out of Puerto Rico. He boosted his stock at the inaugural Draft combine and had an impressive showing at the Perfect Game All-American Classic at Petco Park in San Diego.
Arroyo was selected by the Mariners in the second round and signed for a reported $1.65 million bonus. Shortly before the Draft, he participated in a workout in Seattle, not knowing the Mariners' level of interest.
"After the workout … [the Mariners] told me that they were impressed," Arroyo said the day he signed. "But, you know, the Draft is so weird, I didn't know what was going to happen."
Arroyo had a difficult introduction to pro ball. He batted .211 with a .661 OPS in 21 games in the Rookie-level Arizona Complex League. He struck out in 30 percent of his plate appearances and had just four extra-base hits and 10 RBIs.
He hit for a better average (.250) and reduced his strikeout rate while playing for Roberto Alomar's RA12 club in the Puerto Rican Winter League that offseason, but didn't show much power and finished with a .637 OPS in 22 games.
Arroyo bounced back at the start of 2022 and maintained a breakout pace as the season progressed with Single-A Modesto. By the Trade Deadline, he was batting .316 with an .899 OPS and 13 homers, seven triples and 19 doubles for the Nuts. His strikeout rate dipped to 22 percent and his 130 wRC+ ranked fifth in the California League.
Arroyo showed more thump than expected and some thought that when the sneaky pop he displayed in Modesto failed to materialize in Daytona, he got away from his approach and tried to do too much.
Arroyo's production took a downturn after the trade. The Reds brought him to the Arizona Complex League for a quick two-game tune-up before he reported to the Tortugas. He struggled at the plate upon his arrival to the Florida State League, going 7-for-43 (.163) over his first 12 games. But he started to figure things out as the season drew to a close, producing a .269 average over his final 52 at-bats.
Arroyo will be 19 years old for most of the 2023 season and will likely be one of the youngest players in the Midwest League should he open the year with High-A Dayton. He's had a strong start to the Cactus League season, collecting hits in two of his three at-bats so far, and figures to see more action there before Opening Day.