The Road to The Show™: Giants lefty Harrison
No. 18 prospect emerges as Minors' most dominant southpaw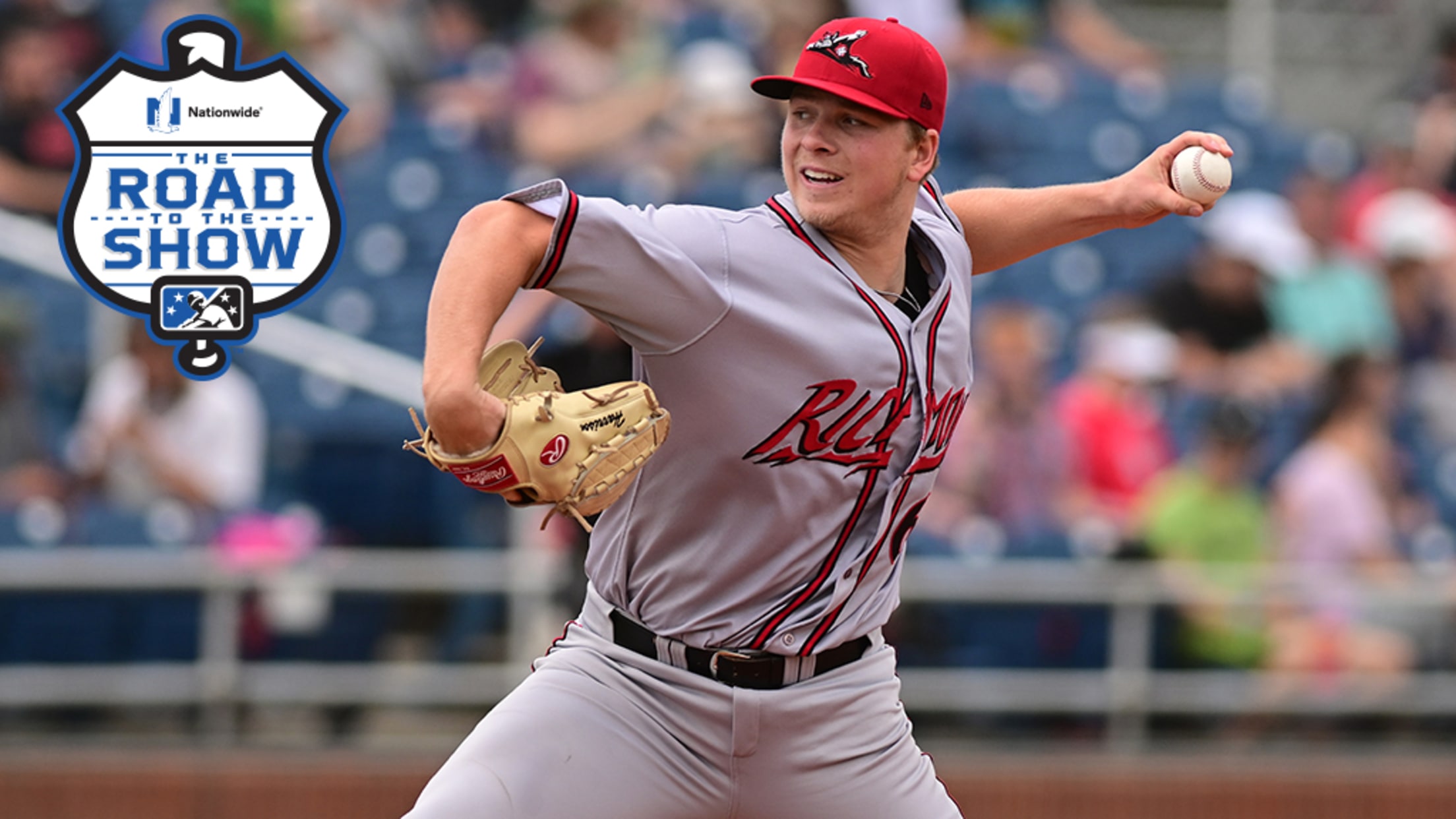 Kyle Harrison led all qualified pitchers with 14.8 strikeouts per nine innings and a 39.8 percent strikeout rate in 2022. (Kevin Pataky/MiLB.com)
Each week, MiLB.com profiles an elite prospect by chronicling the steps he's taken toward achieving his Major League dream. Here's a look at top Giants prospect Kyle Harrison. For more stories about players on The Road to The Show, click here. Over the past two seasons since his debut, Kyle
Each week, MiLB.com profiles an elite prospect by chronicling the steps he's taken toward achieving his Major League dream. Here's a look at top Giants prospect Kyle Harrison. For more stories about players on The Road to The Show, click here.
Over the past two seasons since his debut, Kyle Harrison has been one of the most dominant pitchers in the Minors -- and his tenure there may be coming to an end.
MLB Pipeline's No. 18 overall prospect enters 2023 with an invite to big league Spring Training and a realistic chance at cracking San Francisco's rotation before the All-Star break. Harrison managed a 2.71 ERA last season, limiting opposing batters to just 79 total hits and a .196 average over 113 innings between High-A Eugene and Double-A Richmond.
"We expect him to be in our rotation at some point next year," Giants general manager Farhan Zaidi told NBC Sports Bay Area in October. "It could even be relatively early in the season. … Once he establishes proficiency at [Triple-A] -- which given his Minor League track record, could happen pretty quickly -- I would expect him to be an option for us."
Harrison's dominance of Minor League hitters is illustrated by his strikeout prowess. He finished second to D-backs prospect Brandon Pfaadt on the strikeout leaderboard with 186 total punchouts in 2022. He also led all qualified pitchers with 14.8 strikeouts per nine and a 39.8 percent strikeout rate.
"I have a hard time believing there is a better southpaw prospect in the game," Giants senior director of player development Kyle Haines told MiLB.com in December. "In some regards, the Minors might be a little too easy for him. We want to challenge him. He still makes mistakes, but because his stuff is so premium, he can get away with it. That's where we want to see him challenged and adapt. He definitely needs more development, but Kyle has all the ingredients to be one of the top of left-handed starters in baseball."
After an impressive Minor League debut, Harrison made a point to work on his control and attack hitters in his second professional season. In 2021, he walked 4.74 batters per nine innings and held an 11.8 percent walk rate, which were the only elements of his performance that might resemble a weak spot. But he managed to lower his walk rate to 10.5 percent while decreasing his BB/9 to 3.90.
"[I was] kind of nitpicking a little at myself trying to be too fine [in 2021]," Harrison told MiLB.com in August. "[It] was the first time I was really throwing harder. I was learning how to throw my changeup more often. … Just learning about how to truly pitch. Not just throwing fastballs, like in high school, getting it by guys. I think that played into it. And then taking that into the offseason, I really just harnessed down and tried to focus on every pitch."
The Giants bet big on Harrison in the third round of the 2020 Draft, luring him away from his UCLA commitment with first-round money. His reported $2.47 million bonus was more than three times greater than his slot value.
The 21-year-old could be the next Giants homegrown star to be plucked out of the club's own backyard, following a path traversed by Brandon Crawford and Logan Webb. The San Jose native attended De La Salle High School, which is a little more than 25 miles east of Oracle Park.
Harrison's first official assignment in the Minors, following the cancellation of the 2020 season, was in his hometown with the Giants' California League affiliate.
"Your introduction to your pro career, having friends, family, grandparents, all the above around to support you was really, really cool," Harrison told MiLB.com. "[I] didn't live at home. I wanted to get out of the house and live the experience a little."
Harrison made 23 starts for San Jose in 2021, striking out 157 batters over 98 2/3 innings while maintaining a 3.19 ERA. His 14.32 K/9 were the most among Minor Leaguers to complete at least 50 innings.
His performance in Single-A as a teenager proved he was one of the best left-handed pitchers in the Minors and built anticipation for 2022. Harrison did not disappoint in the early going with the Emeralds. He needed just seven starts to earn a promotion from Eugene, where he posted a 1.55 ERA with 59 strikeouts over 29 innings.
After making just one walk-free start in all of 2021, he issued 10 total walks in those seven Northwest League starts but had a hard time maintaining that pace as he advanced to Richmond.
"One thing I really stressed in the offseason was control," Harrison told MiLB.com. "I wanted to go out and attack hitters and get ahead and put them out as quick as possible. That was something I really tried to do early in the season. I think it showed in my work in Eugene."
Over his first 12 starts with the Flying Squirrels, Harrison yielded 30 walks in 57 ⅓ innings. Although that mark was likely higher than he would have liked, he posted a 2.83 ERA with 84 strikeouts while holding opposing batters to a .190 average.
"The [hitters at Double-A] are good. I mean, everywhere you look around and everyone here can play ball," Harrison told MiLB.com. "Just having to show up on a daily basis and get your work in and really stick to your plan. I guess that's the biggest challenge. And that's something I've been trying to attack each day and figure out how to get better and just keep going, keep pushing."
Harrison worked more in the zone over his final six starts, issuing nine walks in 26 ⅔ innings. But he did get knocked around a little more during this span, getting tagged with a 3.71 ERA as opposing batters hit .225 against him.
The 6-foot-2 southpaw will likely begin the 2023 season with Triple-A Sacramento, though he's already impressing his coaches and teammates in his first big league camp.
"His 'pens have been electric," manager Gabe Kapler told MLB.com last week. "He's throwing hard. There's a real physical presence there."