The Road to The Show™: Rays' Mead
No. 33 overall prospect breaking the mold for Australian hitters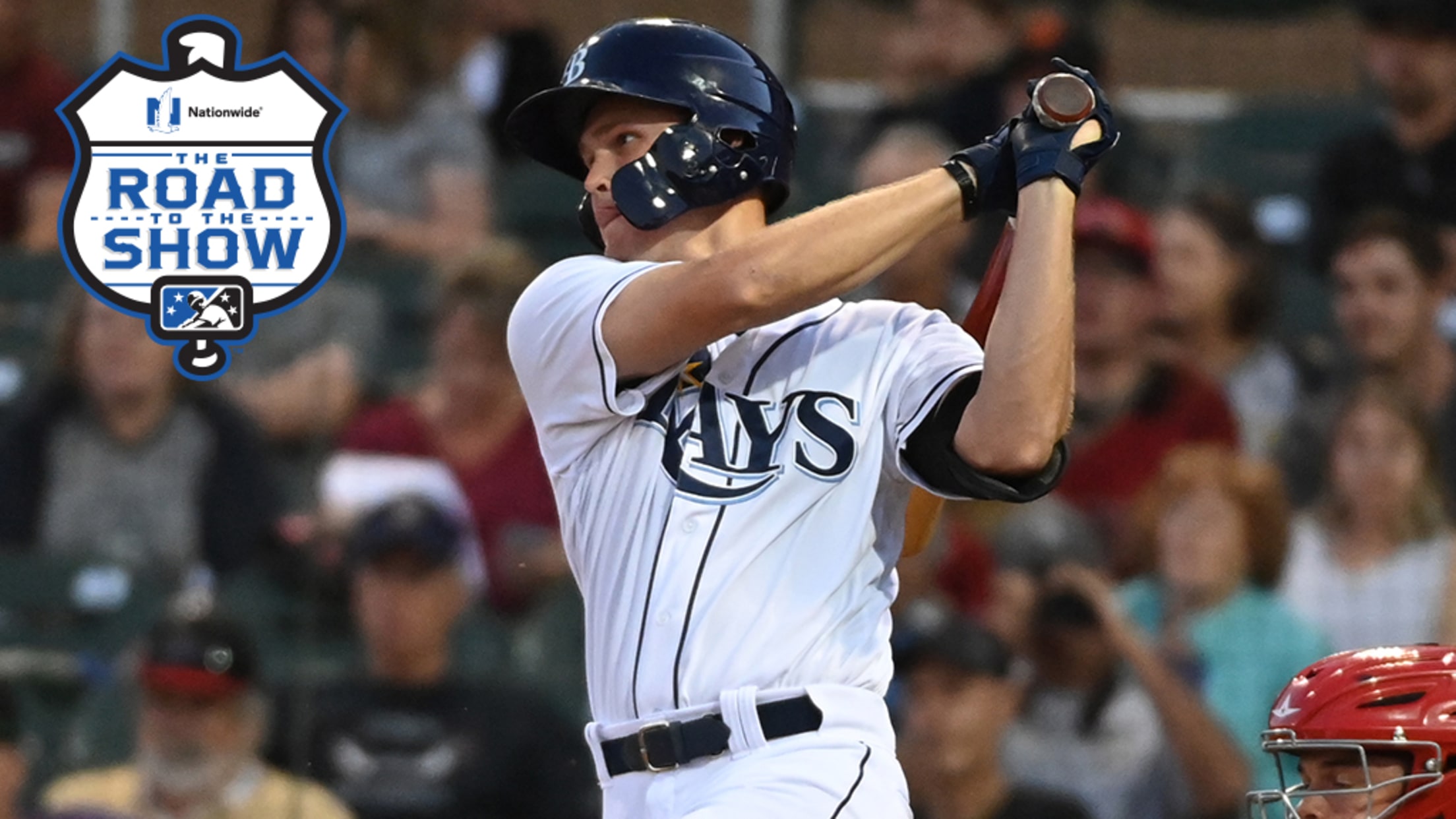 Curtis Mead went 6-for-14 with three extra-base hits over a four-game stint with Triple-A Durham in 2021. (Norm Hall/MLB Photos)
Each week, MiLB.com profiles an elite prospect by chronicling the steps he's taken toward achieving his Major League dream. Here's a look at second-ranked Rays prospect Curtis Mead. For more stories about players on The Road to The Show, click here. Curtis Mead is on the verge of going where
Each week, MiLB.com profiles an elite prospect by chronicling the steps he's taken toward achieving his Major League dream. Here's a look at second-ranked Rays prospect Curtis Mead. For more stories about players on The Road to The Show, click here.
Curtis Mead is on the verge of going where few Australian hitters have gone before.
Mead followed his 2021 breakout with the type of season that not only puts a prospect on the big-league roster bubble coming into Spring Training, but also causes excitement for what seems like an inevitable Major League debut. So far, there have been only 36 players born in Australia to reach the Majors, the first of which, Joe Quinn, played from 1884-1901. Among those 36 players, only 12 were position players and only two accumulated more than 140 at-bats in The Show.
Although he's only played 20 games at Triple-A, Mead has given the Rays reasons to be confident that he not only reaches the Majors but also contributes at a high level. MLB Pipeline's No. 33 overall prospect has been one of the most consistent hitters in the Minors over the past two seasons. He's also driving the ball more consistently, turning doubles into homers and producing impressively high exit velocities without sacrificing plate discipline.
"One thing for a young kid that stuck out for me is he doesn't throw away any at-bats," Bowling Green manager Jeff Smith told MiLB.com in 2021. "If he has three at-bats in the game, if he has six at-bats in the game, it doesn't matter. He even wins pitches. I mean he wins every pitch. He doesn't just win at-bats. He's out there competing, and that's a really cool attribute for a young player."
The 22-year-old was limited by an elbow injury to 76 games in 2022, but he still posted impressive offensive numbers with Double-A Montgomery and Triple-A Durham. In 282 at-bats, Mead batted .298/.390/.532 with 13 homers, 27 doubles, 50 RBIs and 43 runs scored. He also maintained a 10.9 percent walk rate and 18.7 percent strikeout rate.
While he's proven to be an advanced hitting prospect, Mead is more of a project defensively. He's a natural third baseman with good reflexes but isn't so smooth with the glove and has questionable arm strength, which was certainly hindered by his elbow injury. Throughout his career, he's played both third and first and the Rays organization, which likes to test a player's defensive versatility in the Minors anyway, also put "an emphasis" on second base this season.
"I think I've been able to make strides defensively at three different spots. That's been huge," Mead told MLB.com in July. "I played [second] a lot when I was younger, but this year, that's kind of been the goal. … The double-play turns are the key. Obviously, the ground balls are similar to third, but the double plays [are different], so the feeds and the turns [are a focus]."
The possibility of playing in the Majors is closer to being a reality than it's ever been for Mead, who didn't even focus on the sport full time until he was already a pro prospect more than six years ago. Although baseball is essentially a niche sport in Australia, Mead learned the sport from his father, Tim Mead, who played in the Australian Baseball League.
By the time Curtis Mead was 16, he more or less had a choice of whether he wanted to pursue a career in baseball or Australian rules football, the latter of which was much more popular locally. Mead eventually chose baseball and was playing for his hometown ABL team, the Adelaide Bite, during the 2017-18 season when he was almost nine years younger than the average age for the league.
In just 20 games in his first professional action, Mead batted .373 with an 881 OPS. He drew the interest of Major League scouts from more than 10 teams and eventually signed with the Phillies for a $200,000 bonus.
The @AdelaideGiants have a need... A NEED FOR MEAD!

Curtis Mead goes deep, and this one is tied at six! #ABL pic.twitter.com/yhx9P0sfH0

— Australian Baseball League (@ABL) December 15, 2019
Mead would go back and forth from the U.S. to Australia over the next two years, spending his summers in the Rookie-level Gulf Coast League and winters with Adelaide. He posted impressive numbers during his 2019 season in the GCL, batting .285 with an .813 OPS. He went home to Australia that winter and, due to the pandemic, it would be a while before he would return stateside. He also found out he'd be headed to a different club upon his eventual return as the Phillies swung a trade that sent Mead to Tampa Bay for reliever Cristopher Sánchez in November 2019.
"Initially … I didn't love it," Mead said. "Ever since then, I haven't looked back. … I've been really, really happy it happened."
It would be more than a year after the trade before Mead reported to the Rays for the first time. By the time he arrived, he looked different from when the Rays last saw him in the GCL. During those two ABL seasons and the year lost to the pandemic, he grew to 6-foot-2 and reportedly put on 30 pounds.
The difference was evident almost immediately. Mead was one of the best hitters in the Minors during the first half of the season with Single-A Charleston in 2021. He batted .356 with 29 extra-base hits and 35 RBIs over 47 games.
"I think we all knew Curtis Mead could hit," Rays Minor League field coordinator Michael Johns told MLB.com last March. "I don't know if we knew he had that kind of power with the speed off bat, and it just kept getting better."
He spent the back half of the season with High-A Bowling Green but was called on for an emergency four-game stint in Durham toward the end of the year. In his first taste of Triple-A, Mead went 6-for-14 with a pair of doubles and a homer. He continued to swing a hot bat, again against advanced competition, with Scottsdale in the Arizona Fall League, batting .313 with an .890 OPS.
"It brings a lot of confidence. … I feel like I belong here now, which is awesome," he told MLB.com in October 2021. "Probably after I went to Triple-A and showed I could play up there. I [thought] this is everything I've dreamed of, so it's really been an unbelievable season."
Mead didn't play in the ABL for the first winter in four years and returned to pro ball when the 2022 season began in Montgomery. Even hindered by injury, he had an excellent first half with the Biscuits, batting .305 with a .942 OPS and 10 homers, the most he's hit at any level. He made an appearance in the Futures Game at Dodger Stadium before finishing the season in Durham. Mead played only 20 games with the Bulls before being shut down by the injury.
The Rays have an uncanny ability to not only trade for players like Mead before they break out but also find a way to get a player in the lineup if his bat warrants consideration. It's hard not to imagine Mead breaking camp with the Major League squad had he not gotten hurt. But he's on the doorstep and has the offensive gifts to force his name into the conversation sometime in 2023.